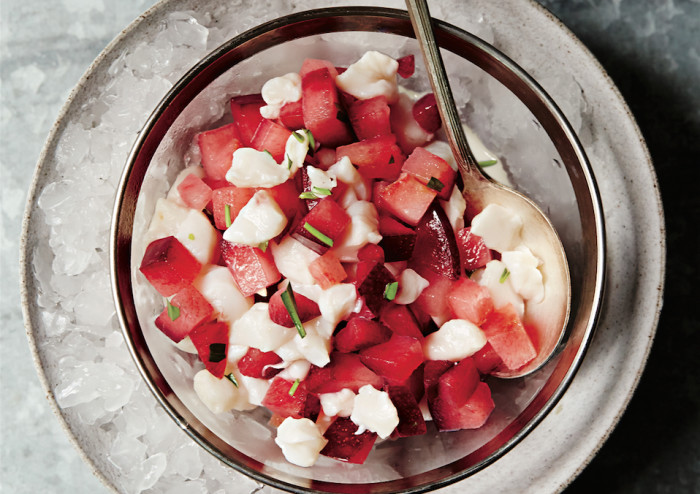 For those with food commitment issues, there is Graze. It's a colorful collection of vibrant "not quite a meal, more than a snack" dishes from renowned recipe developer and food stylist Suzanne Lenzer. Whether you're looking for a late night nosh or light lunch-ish-type-meal, there's plenty of options in here for you. This scallop ceviche with plums makes a satisfying starter out of two ingredients you never knew paired so well. 
In culinary school, we had what were called "Market Basket" exams. On those days, we were paired up with another student and then given a few key ingredients (the Market Basket) and told to create a three-course meal in a set amount of time — a meal that the chef instructor would then taste and grade based on originality, flavor, and presentation. In addition to the Market Basket ingredients, we were allowed to use pantry basics to accentuate the recipes we created, but the core ingredients we were assigned had to be the focus of the menu.
For my favorite Market Basket exam, I was paired with my closest friend in the class, Kevin. We had a very similar approach to food and cooking, and we had fun together in the kitchen, so as far as tests go, that one was more enjoyable than stressful. That day, two of the ingredients we were given were scallops and plums — not a pairing I would naturally make on my own, but that's the point. Together, Kevin and I concocted a less-than-traditional ceviche that we flavored with fresh, licorice-y tarragon and lip-puckering lime juice. Like with most ceviche, the fish cooks in the acid of the citrus, infusing the scallops with a brightness that's refreshing but doesn't overpower the sweetness of the meat or the flesh of the fruit. It's a delicate dish; a virtue further enhanced as the juice of the plums seeps into the scallops, giving everything a gentle and otherworldly lavender hue.
Ingredients
1

pound

sea scallops, cut into 1/4-inch to 1/2-inch dice

1-2

sprigs

fresh tarragon, leaves picked and chopped, or more to taste

1/2

teaspoon

grated lime zest

1/4

cup

fresh lime juice

pinch

cayenne pepper

sea salt
Directions
For the ceviche
In a bowl, toss together the scallops, plums, tarragon, lime zest and juice and cayenne.

Season with salt.

Chill the mixture for about 15 minutes. Taste and adjust the seasoning.