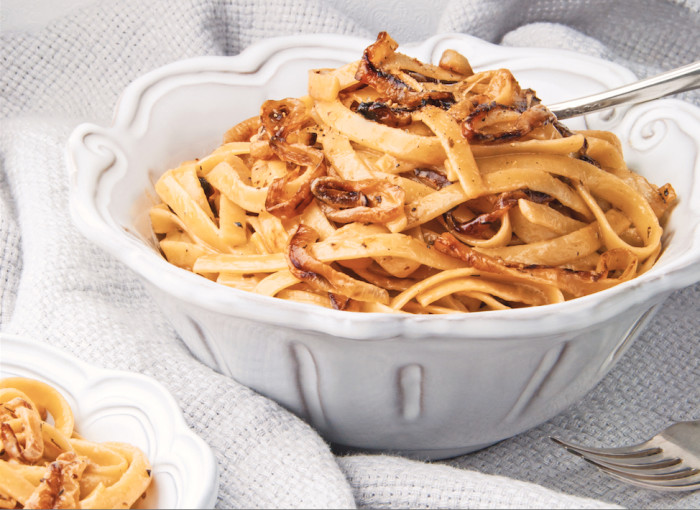 Steer clear of Americanized, fat-laden carbohydrate bombs disguised as Italian food, and get back to basics. Food writer, blogger and registered dietician Alexandra Caspero has a new collection of recipes out that strips your pasta of all things excessive, while leaving the flavor, toothsome texture and healthy ingredients you love.

Get ready for your kitchen to smell heavenly! The secret to this pasta is cooking the onions until they're a deep golden brown, intense with flavor to balance the minimal ingredients. They should be mostly broken down, almost melting into the hot pasta to create a simple sauce. To prevent them from becoming mushy, stir only occasionally.

To make this more of a carbonara instead of a cream sauce, omit the cream and beat together one egg with the Parmesan cheese. Add to the hot pasta along with the caramelized onions and serve immediately.

Reprinted with permission from Fresh Italian Cooking for the New Generation
Ingredients
1

tablespoon

extra-virgin olive oil

2

large yellow or white onions, thinly sliced

1

cup

fettuccine

6

garlic cloves, sliced

1

teaspoon

dried oregano

Salt and freshly ground black pepper

1/8

cup

heavy cream

1/4

cup

Parmesan cheese, freshly grated
Directions
For the pasta
Heat the olive oil in a large skillet over medium heat. Add the onions and cook until reduced and dark in color, about 15-20 minutes.

Meanwhile, bring a large pot of salted water to a boil and cook the fettuccine until al dente, according to package directions. Drain, reserving ½ cup pasta water.

Once the onions have caramelized, add the garlic cloves and oregano along with a generous pinch each of salt and pepper. If you like your pasta more on the spicy side, feel free to add in a sprinkle of crushed red pepper flakes.

Stir in the heavy cream and add the drained, hot pasta along with ¼ cup reserved pasta water.

Using tongs, quickly toss to combine and add in the Parmesan cheese. If the sauce is too thick, add remaining pasta water to thin.