Savory Slice: Roasted Beet And Feta Tart Recipe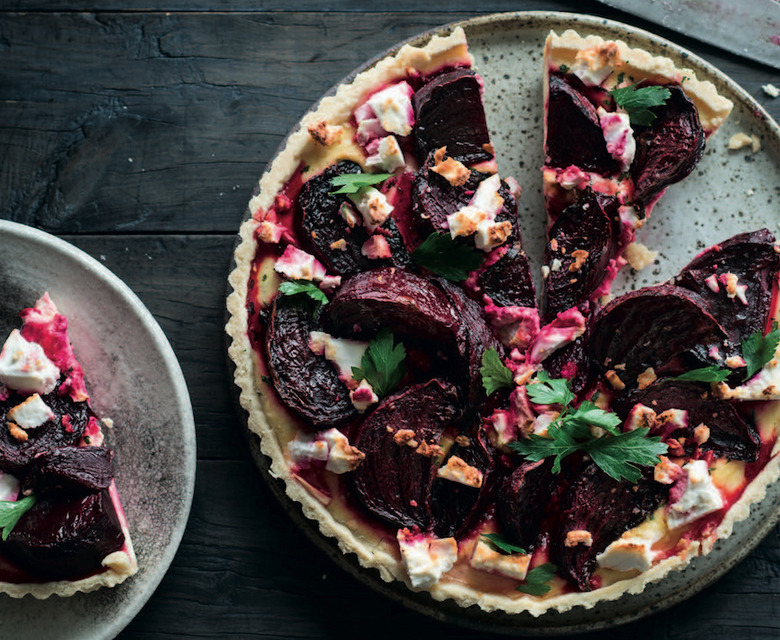 We may receive a commission on purchases made from links.
This is a book about cheese like you've never consumed it before. Travel around the world for stories from some of the best cheesemakers in the game today, and try their time-tested (or brand-spankin'-new) recipes at home. Author Nick Haddow, founder of Tasmania's Bruny Island Cheese Company, knows the industry and its treats like no one else. 
This tart is all about the feta. You could easily swap out the roast beetroot for roast pumpkin, leeks or any other veggies you like.
Savory Slice: Roasted Beet And Feta Tart Recipe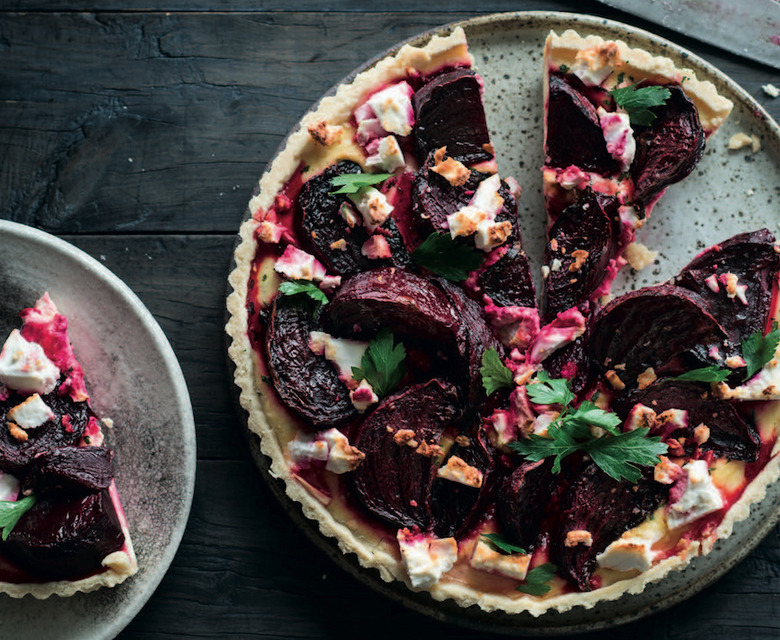 Ingredients
2 large beetroot (beets)
olive oil
4 eggs
1 egg yolk
1 French shallot
14 ounces creme fraiche
2 tablespoons chopped flat-leaf parsley
7 ounces feta
1 1/2 cups plain flour
2/3 cup chilled butter
2-3 tablespoons iced water
Directions
Preheat the oven to 375°F.
To make the shortcrust pastry, put the flour and butter in a food processor and pulse until the mixture resembles breadcrumbs. Gradually add the water, a little at a time, until the mixture starts to come together. Turn out onto a clean work surface and form the dough into a ball. Wrap in plastic wrap and refrigerate for 30 minutes.
Put the beetroot in a baking dish and drizzle over a little olive oil. Season with salt and pepper, and roast for 30-40 minutes, or until cooked through.
Lightly grease a 10-inch round loose-bottomed tart tin, about 1¼ inches deep.
On a lightly floured work surface, roll the pastry out to a ¼-inch-thick circle. Transfer the pastry to the tart tin — it should be large enough to line the base and side of the tin, with enough excess pastry to hang over the edge. Place on a baking tray and chill for 30 minutes.
Line the tart base with baking paper and add some baking weights. Blind bake for 20 minutes, then remove the weights and baking paper and continue cooking for a further 5 minutes, or until the base is golden. While the pastry is still warm, trim the edge of any excess pastry. Reduce the oven temperature to 320°F.
Whisk together the eggs, egg yolk, shallot and crème fraîche in a bowl. Season with salt and freshly ground black pepper, then fold in the parsley and half of the cheese. Pour the mixture into the tart base, making sure the feta is evenly distributed. Bake for 20 minutes, then carefully remove from the oven (the tart will be wobbly and only half cooked at this stage). Top with the roast beetroot and the remaining feta. Return to the oven for a further 20 minutes, or until set. Serve warm or cool.