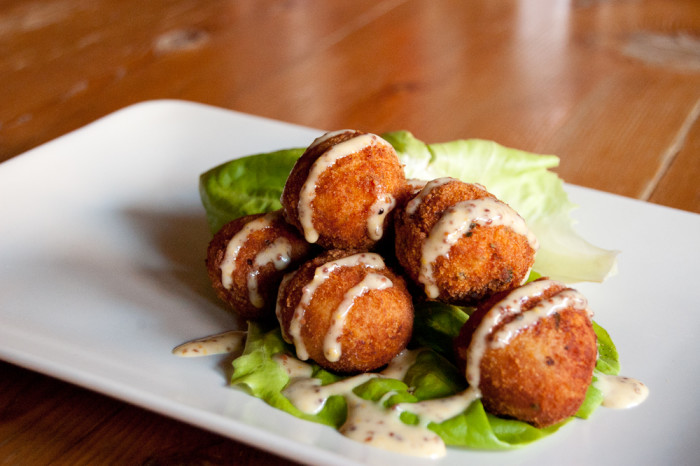 These are the perfect party snack: crispy sauerkraut fritters dipped in sweet mustard sauce.  You can fry them ahead of time and serve them at room temperature. At Brauhaus Schmitz these have quickly become a very popular bar snack paired with a nice crisp pilsner or lager. They have even been known to convert sauerkraut haters as well!
Ingredients
1

bag

fresh sauerkraut, drained

1

large

smoked sausage (Bauernwurst or Kielbasa)

4

slices

thick-cut smoked bacon

2

tablespoons

spicy mustard

1

cup

Gruyere

8

eggs

1

cup

breadcrumbs
For the breading
3

cups

flour

1

teaspoon

salt

1/2

teaspoon

black pepper

3

cups

breadcrumbs
For the sauce
1

cup

mayonnaise

2

tablespoons

honey

1/2

cup

whole grain mustard
Directions
Cut the bacon and sausage into small pieces.
Heat a medium sized frying pan on medium heat. Add the bacon and sausage and cook for 4-5 minutes or until the bacon is slightly crispy.
Remove from the heat and let cool completely. You can keep the bacon fat that remains in the pan and add it to the mixture to add flavor.
In a large mixing bowl, mix together the drained sauerkraut, mustard, breadcrumbs, 6 eggs and cheese.
When the bacon and sausage is cool, add it to the sauerkraut mixture and mix well. The mixture should be a little firm. Add a little more breadcrumbs to form a nice tight mixture.
Take three bowls, large enough to fit the a few of the fritters into, and keep them separate. Add the flour, salt, and pepper to one bowl, 2 beaten eggs to the second bowl and the breadcrumbs to the third bowl, and keep your bowls in this order.
Take a few of the fritters, place in flour, and roll them around to coat all sides well.
Next, dip the fritters into the egg, coating all sides, then remove to the bowl with the breadcrumbs.
Roll them in the breadcrumbs and place on a plate while you do the others.
Once you get all of them breaded you should place them in the refrigerator for at least in hour. Overnight is even better. You want them to be very cold so that they stay together easily.
To Fry:
Using a large Dutch oven or small stockpot, heat up the oil to 350º F. If you don't have a thermometer just take a little piece of breadcrumb and drop it into the pan. If it sizzles, then it's ready.

Add the fritters one at a time leaving enough room for them to float around. If you put too many in at the same time the oil will cool too fast and the fritters will come out greasy and undercooked.

Fry the fritters in the oil for about 5 - 6 minutes. Using a slotted spoon, carefully remove them and place on a plate lined with a paper towel. Continue to fry them until all of them are done.
For the Dipping Sauce:
In a small mixing bowl, combine the mayonnaise, honey, and mustard and mix well.