Sausage And Pepper Hero Recipe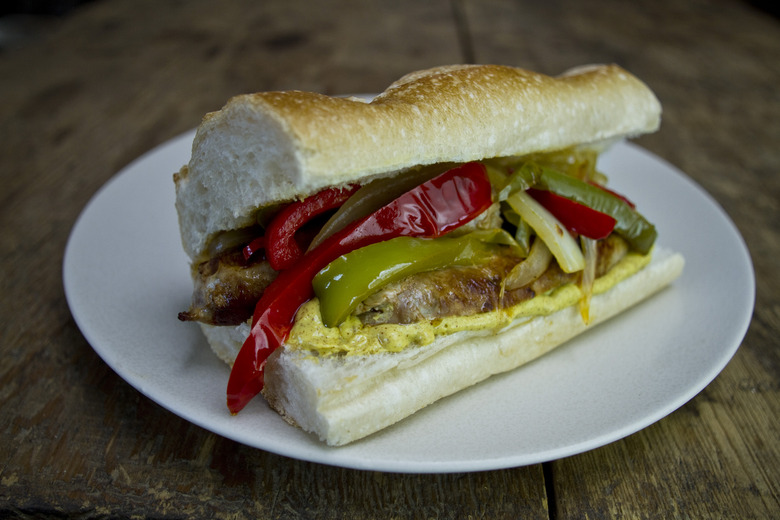 Photo: Mark Shaw
In honor of national hot dog season, we present to you the Italian grandaddy of all elongated meat in a bun: The sausage and pepper hero. We're not even going to tell you to go out and buy one for lunch. This is all you. If you have a grill, you can make it right. If you have a grill pan, you can make it right. If you have nothing in your kitchen but a pan, a knife and a cutting board, this hefty sandwich is in your very near future. As in 7/20 near.
We made this recipe in our test kitchen in under 20 minutes, start-to-finish, which means you can too. Get creative, use some crazy exotic turtle and fontina sausage you found at the specialty market, or try peppers with varying levels of sweet and heat like Anaheim chiles or poblanos. Fry up Vidalias for a hit of pungent sweetness or reds for the manliest pink onions you've ever seen. We topped ours off with a squirt of spicy mustard to boot.
Submit your wildest sausage and pepper pairing to our Flickr pool and there just may be something in it for you (probably sausage-related).
Sausage And Pepper Hero Recipe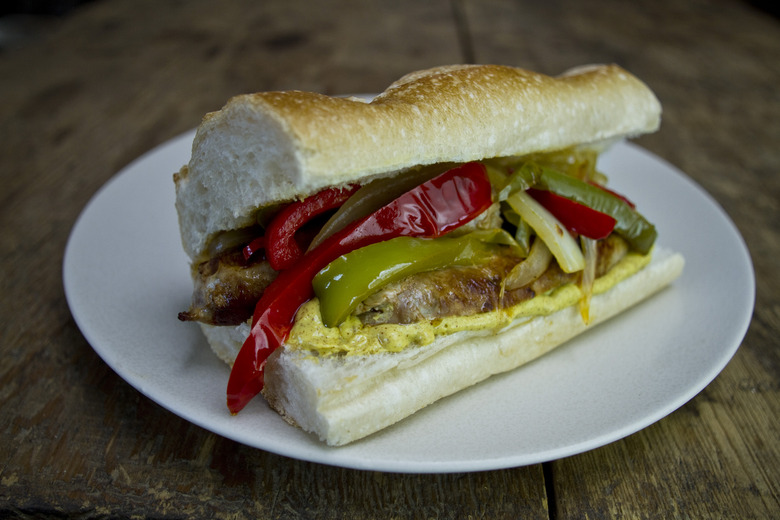 Ingredients
2 tablespoons olive oil
1 pound Italian sausage (sweet or hot)
1 white onion
1 red bell pepper
1 green bell pepper
1 hero roll or small baguette
Directions
Heat 1 tablespoon of olive oil in a large skillet on medium high and cook the sausages until brown on both sides, about 10 minutes. Remove and let drain on a layer of paper towels.
Heat remaining olive oil in skillet over medium heat, add peppers and onions, season with salt and pepper and saute, tossing frequently, until onions are translucent and peppers are softened, about 10 minutes. 
Slice sausages lengthwise and place 2-3 halves in the roll.
Top with peppers and onions and serve.