Salty-Sweet Poppy Onion Crackers Recipe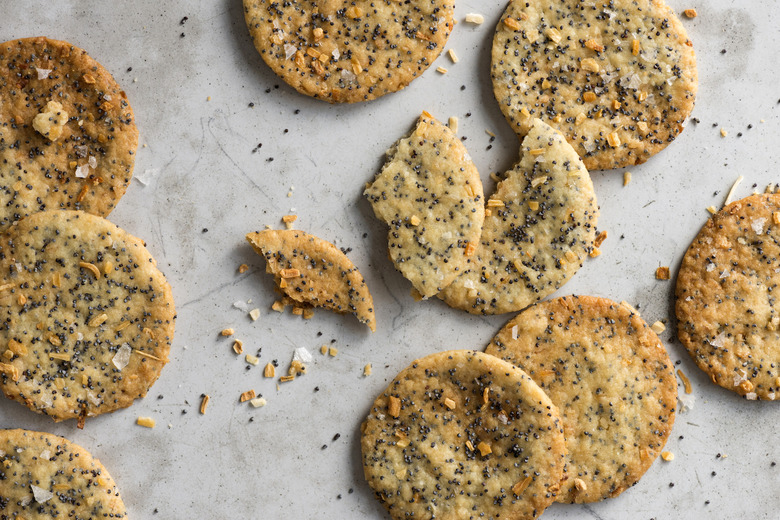 Photo: Evan Sung, Stylist: Kaitlyn DuRoss
We may receive a commission on purchases made from links.
This recipe is part of Crispianity: a column devoted to all foods crispy and crunchy, two of the most underappreciated attributes of a great dish. Author Adeena Sussman is a food writer and recipe developer, pairing here with her friend, photographer Evan Sung. Sussman's most recent cookbook, co-authored with Lee Brian Schrager, is Fried and True: More Than 50 Recipes for America's Best Fried Chicken and Sides.
Deeply crispy, crunchy snacks are a vice I'm simply unwilling to resist, and I like to make them myself whenever possible. That's why I'm currently obsessed with this recipe for sweet-salty, crispy-crunchy crackers updated from of a Sussman family classic, tzibbeleh kuchen (onion cookies). It's passed down from my late grandmother, who often had a plate of them on the kitchen table at her house in Queens, NY. Hers hewed to tradition: soft, yeast-risen and savory all the way, puffy little rounds that tasted like the love-child result of a steamy affair between a bialy and a focaccia. I fused her recipe with another old-school family favorite: sweet, sugary poppy-seed (munn) cookies. But I reduced the sugar ordinarily in the poppy cookies, then replaced fresh onions with dried and eliminated the yeast in the onion cookies to ensure a shatteringly crispy texture. Stored in an airtight container they freeze like a dream, allowing you to stock up for times when nothing but a deep dose of crispy crunchiness will do.
Salty-Sweet Poppy Onion Crackers Recipe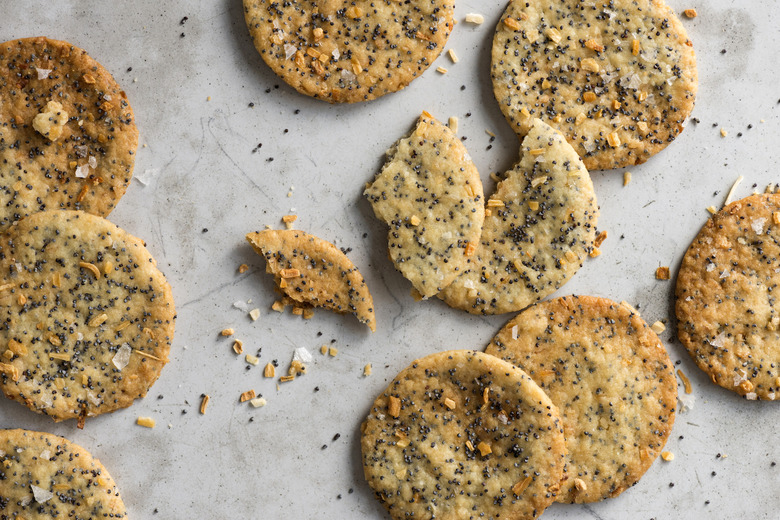 Ingredients
4 eggs
1 cup vegetable oil
1/2 cup sugar
4 cups all purpose flour
2 teaspoons baking powder
1 teaspoon fine sea salt
1/4 teaspoon fresh pepper
1/3 cup poppy seeds
1/3 cup dried onion flakes
flaky sea salt for sprinkling
Directions
Preheat the oven to 375°F.
In a large mixing bowl whisk the eggs, sugar and oil.
Whisk together the flour, poppy seeds, onion flakes, baking powder, salt and pepper and add to the egg mixture with the poppy seeds and onions flakes.
Mix with a wooden spoon, then using lightly oiled hands, knead the dough into a cohesive ball, about 30 seconds.
Divide the dough into 3 equal-sized pieces.
Roll one piece of dough out between 2 pieces of parchment paper to 1/4-inch thickness.
Peel away the top piece of parchment.
Using a 2-inch cookie cutter, cut out cookies and remove dough scraps for rerolling.
Transfer cut-out crackers on parchment to a baking sheet, prick with a fork, brush lightly with water and sprinkle with poppy seeds, onions and flaky salt, pressing them in lightly with your hands.
Bake until golden brown and crisp, 12 minutes.
Transfer to baking racks to cool (for extra crispness, bake a second time for 3-4 minutes). Crackers can be frozen in an airtight container for up to 3 months.
Better Bar Food: Cheezy Bits Recipe
Za'atar-Dusted Pita Chips Recipe
Swedish Caraway Rye Crisps Recipe