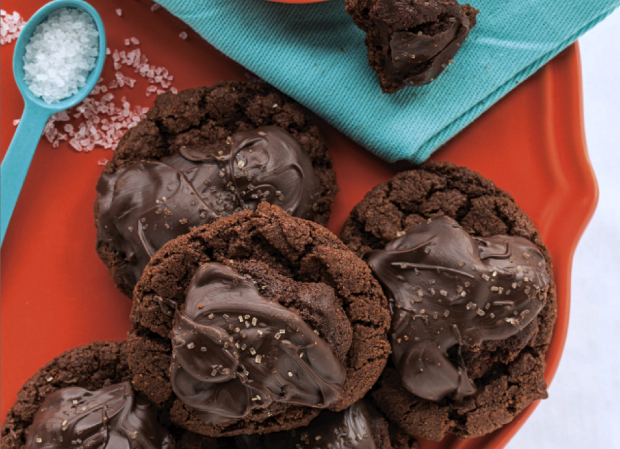 Finally, a cookbook exclusively for frosting! Author Heather Saffer won Food Network program Cupcake Wars, owns Dollop Gourmet Cupcakery in upstate New York and published this cookbook last month. But, honestly, they had us at "salted triple chocolate…"
Traveling home after the Cupcake Wars showdown was exhausting and our brains just weren't working — so much so that my assistant extraordinaire, Markie, and I not-so brilliantly packed a container of cocoa powder into Markie's checked luggage. As each passenger's bag dropped onto the baggage carousel, a puff of brown smoke was released into the air. Soon we were rolling on the baggage claim floor roaring with laughter — especially when Markie's suitcase was finally released…completely covered in dark brown cocoa powder. This event was the inspiration for this happiness-inducing Brownie Batter Frosting. And why not: If cocoa makes you laugh, chocolate makes you smile.
Ingredients
1

egg yolk

1

batch

Brownie Batter Frosting (see below), divided in half

1/4

teaspoon

baking soda

1/4

cup

flour

1

cup

dark chocolate candy melts

2

teaspoons

coarse sea salt
Brownie Batter Frosting
1/2

cup

unsalted butter, softened

3/4

cup

brown sugar

1/3

cup

cocoa powder

1/4

cup

flour

1

teaspoon

pure vanilla extract

1/2

teaspoon

coarse sea salt
Directions
For the frosting:
In a stand mixer, whip butter and sugar until smooth, about 2 minutes. Add cocoa powder, flour, vanilla and salt, and whip until light and fluffy, about 5 minutes.
For the cookies:
Preheat oven to 350 degrees F. In a stand mixer, combine the egg yolk and 1/2 of the Brownie Batter Frosting and whip until incorporated. Add baking soda and flour, and continue mixing until smooth, about 2 minutes.

Scoop tablespoon-sized balls of cookie batter onto a parchment-lined baking sheet and bake for 8–10 minutes. Do not overbake or cookies will be hard.

Remove from oven and cool on a cooling rack. Once cool, frost each with a small dollop of the remaining Brownie Batter Frosting.

Heat dark chocolate candy melts in the microwave in 30-second intervals until melted and smooth. Carefully spoon about 2 teaspoons of chocolate over each frosted cookie to cover the frosting, then sprinkle with a few crystals of coarse sea salt.
More cookie recipes on Food Republic: