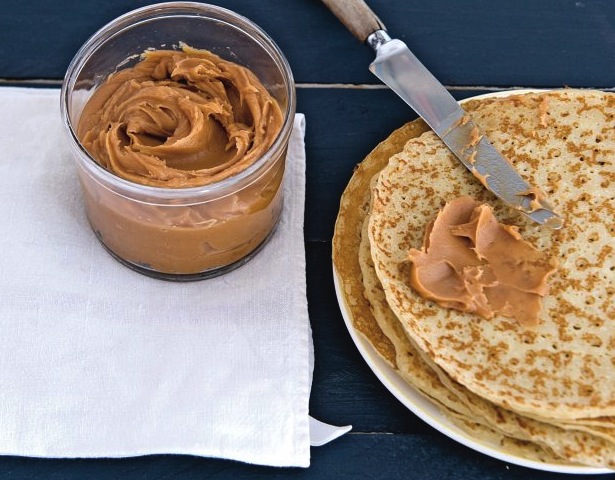 You're always going to need to know the basics, so you might as well master them. That's why we picked up From Scratch, a book of classic recipes for preserves, pickles, spreads, charcuterie and of course, sweets, by French bookbook authors Laurence and Gilles Laurendon. While the homemade yogurts look delicious, it's hard to pass up a jar of salted caramel you can keep in the fridge and spread on everything for a few weeks.
Ingredients
1 1/4

cup

sugar

6 3/4

tablespoons

water

2/3

cup

soft butter

1/2

cup

heavy cream

1

teaspoon

sea salt

container with lid
Directions
In a large pan, gently heat the sugar and the water, stirring occasionally until the ingredients have browned.
Add the liquid cream and sea salt. Bring the mixture to a boil and cook it at a rolling boil for five minutes, stirring occasionally.
The mixture should take on the consistency of caramel, becoming thick and turning a dark golden brown. Watch the mixture carefully once it starts to take on color—it happens fast, and the mixture can easily burn.
When the mixture has a nice caramel color, remove it immediately from the heat. Stir it until it cools down and is warm to the touch. Then refrigerate it for 10 to 15 minutes.
Beat the butter in a small bowl until it's creamy, then stir it into the cooled caramel.
Transfer the caramel to your storage container and seal the lid tightly. It will keep for about two weeks in the fridge. If the caramel is too hard when you're ready to serve it, microwave it for about 30 seconds.
Make other sweet homemade spreads on Food Republic: