Salt 'N Vinegar Roasted Potatoes Recipe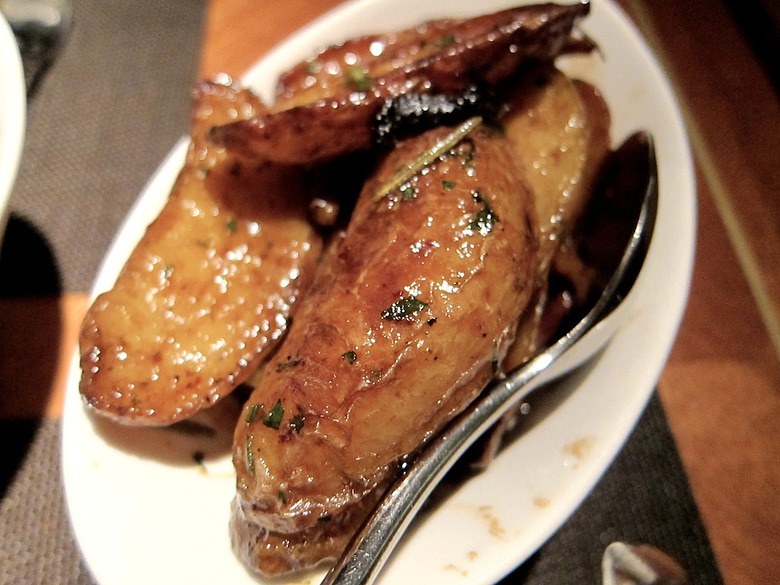 Your favorite chips transferred into the whole potato.
When it comes to figuring out the starch that'll be on the family dinner table, I have to work hard to not make it my beloved pasta. Rice is my next choice, because I make a fair amount of Chinese food. And that leaves the lowly potato third in my starch repertoire.
I tend to go with mashed or baked because they're both easy and satisfying. Of course, if I could easily make French fries, I would, which is why I'm happy to introduce you to the next best thing: Gourmet Fingerling Fries, or, as I like to call it: Appendage-y Looking Potatoes, Smashed as if by a Closed Car Door and Crispy.
This recipe comes to me via my wife, who picked it up at the Framed Cooks blog, which got it from Martha Stewart's site. What drew me to this recipe was the idea of using both fingerling potatoes and malt vinegar. I'm a fan of pouring the vinegar on at a good fish and chips restaurant, so I wanted to see if I could make it work at home.
There's a Grand Guignol thrill to seeing the little fingers adorning the cutting board, like you're living an episode of Dexter. And then, after they're boiled, crushing them is pretty awesome. Framed Cooks has a smart way of using a clean dish towel and something heavy and flat, but I'm guessing you'll do like me and just smash the spuds like a water bug (just don't go too far.) And I wouldn't worry about gently brushing the olive oil on either — just manhandle them a bit until the oil is dispersed.
They came out great, tender and crispy. And now I know what I'll serve if Rob Zombie ever comes over for dinner.
Salt 'N Vinegar Roasted Potatoes Recipe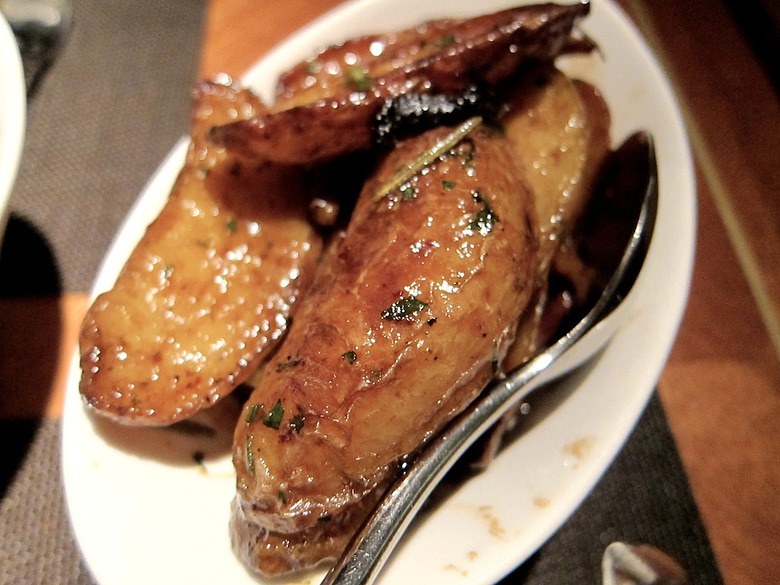 Ingredients
1 1/2 pounds fingerling potatoes
2 tablespoons olive oil
1/4 cup malt vinegar
coarse salt
Directions
In a medium pot, bring potatoes to a boil over high in salted water.
Reduce heat and cook at a rapid simmer until potatoes are tender when pierced with a knife, about 20 minutes; drain.
Place a folded dish towel on a work surface and place a potato inside. Gently smash potato so that it is flattened but still in one piece (edges will split). Repeat with remaining potatoes.
Preheat oven to 450 degrees. Brush a rimmed baking sheet with 1 tablespoon oil. Place potatoes on sheet and brush tops with 1 tablespoon oil.
Bake until crisp and golden, 35 minutes, flipping them halfway through.
Remove from oven, toss with vinegar, and season with salt.