Salt-Crusted Cornish Hens With Lemon Butter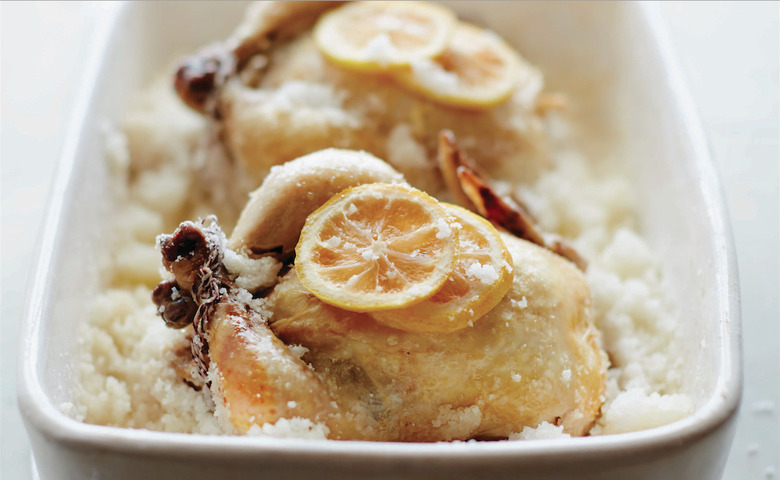 We may receive a commission on purchases made from links.
Whether it's sweet, savory or somewhere right in between, there's nothing like the bright, tart burst you get from adding citrus to a recipe. Enhance every course with colorful, juicy fruits from the ordinary to the exotic with Citrus: Sweet and Savory Sun-Kissed Recipes, a new cookbook by chef and writer Valerie Aikman-Smith. 
Cooking the hens in a salt crust leaves them incredibly succulent, allows the zesty lemon butter to infuse the meat, and — believe it or not — doesn't make the chicken salty at all.
Salt-Crusted Cornish Hens With Lemon Butter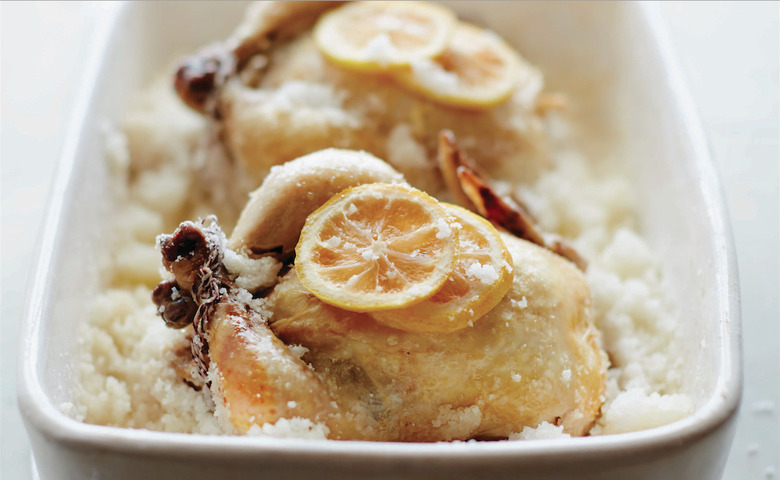 Ingredients
1/2 cup unsalted butter, at room temperature
Zest and juice of 1 lemon
2 Cornish hens
1 lemon
4 pounds coarse sea salt
Directions
Preheat the oven to 375°F.
In a small bowl, mix together the butter and the lemon zest and juice until well combined.
Put the hens, breast side up, on a work surface. Spread the butter under the skin and on top of the breasts and thighs. Lay the lemon slices on top and inside the birds.
Pour the salt into a large bowl. Slowly add enough water to the salt to create the consistency of wet sand.
Spread a thin layer of the wet salt on the bottom of an ovenproof dish or cast-iron pan large enough to hold the birds. Place the hens on top, then cover completely with the remaining salt mixture. Pat the salt securely around the birds to make sure there are no holes that will allow steam to escape.
Roast the hens for 1 hour. The salt will harden and turn golden brown. Remove from the oven and let rest for 10 minutes.
Using the back of a large knife, crack open the crust. Remove the hens and place them on a wooden board. Cut in half lengthwise and serve.