Salt Cod With Bread And Garlic, Straight From Lisbon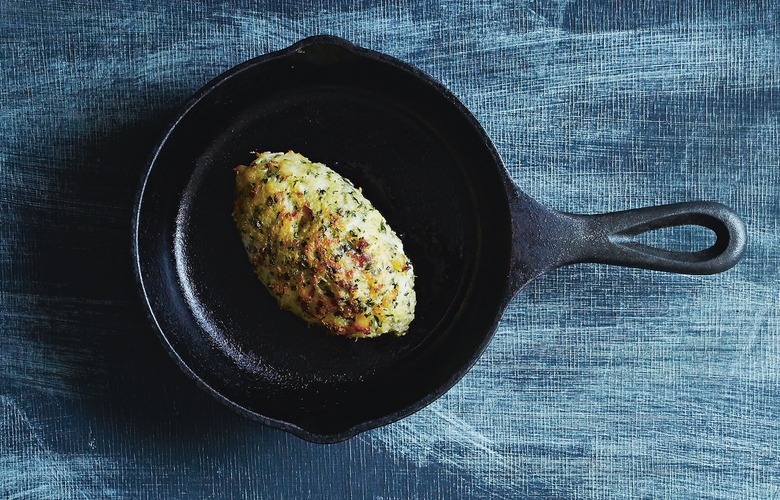 We may receive a commission on purchases made from links.
Portuguese food is having a resurgence in the restaurant and cookbook worlds alike, and we've never been happier. Between the simple fresh fish preparations, hearty meats, vibrant sauces and delicious plethora of sweet and savory baked goods, we've stuffed and perfectly content. This salt cod with bread is a beloved dish in the region, and one you should definitely make at home. 
Migas are dishes made with garlic, oil and leftover bread, either corn or wheat, and are common throughout Portugal as well as Spain. This version contains both salt cod and cream, making it rich and very tasty. If you'd like to try this as a main course, add some cooked pinto beans to the hot frying pan; it's also very good with a little Roasted Red Pepper Paste (see above) stirred through.
Salt Cod With Bread And Garlic, Straight From Lisbon
Take a culinary trip to Lisbon with this salt cod with bread and garlic. It's a beloved dish in the region, and one you should definitely make at home.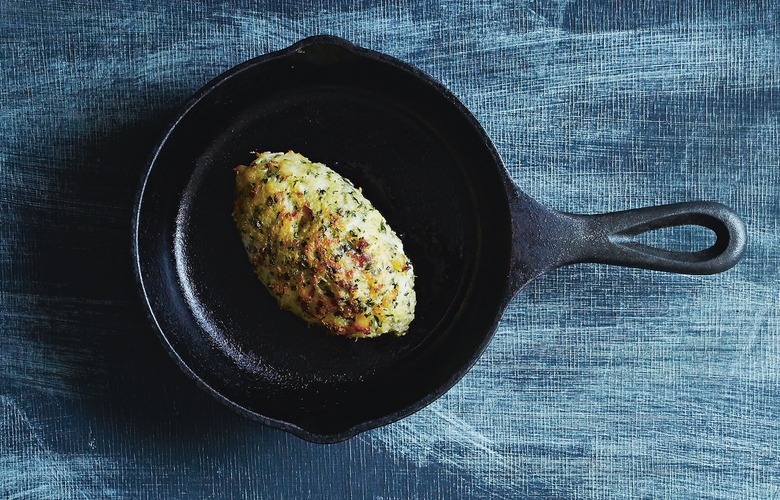 Ingredients
3 1/2 ounces salt cod
olive oil
2 ounces slightly stale cornbread
2 ounces slightly stale white bread
1 fat garlic clove
3/4 cup boiling water
3 tablespoons single (light) cream
2 tablespoons finely chopped flat-leaf parsley
1 tablespoon finely chopped coriander
Salt and freshly ground black pepper
Directions
Twenty-four hours before you want to start cooking, desalinate the salt cod: rinse it under fresh running water to remove any salt crystals on its exterior, then place in a large bowl of cold water, cover and leave in the fridge. Change the water every few hours. It should be ready after about 24 hours — some cod is ready after just 8–12 hours, depending on its cure. To check whether it is ready, place a piece in a pan and cook it with a little water for a minute or two, then taste. It may be slightly salty, but shouldn't be overwhelming.
When ready to cook, place the cod in a pan, cover with fresh water, bring to the boil, reduce the heat and simmer for 15 minutes. Remove from the water and leave it to cool slightly. Once it is cool enough to handle, remove the skin, along with any bones or fins, then flake the flesh.
Heat a large wide frying pan over a medium heat. Add a splash of olive oil, then add the bread, garlic and the flaked cod. Pour in the boiling water and the cream, and cook, stirring, for 2–4 minutes, until the bread has broken down to a fairly smooth mash.
Preheat the grill (broiler). Add the herbs to the pan and stir. Season to taste with a little salt and pepper.
Either in an oven dish or the frying pan you cooked the mixture in, shape the migas mixture into an oval about 6 inches long. Slide under the grill and cook for 5 minutes or so, until the top is just beginning to turn golden brown.
Serve straight away.