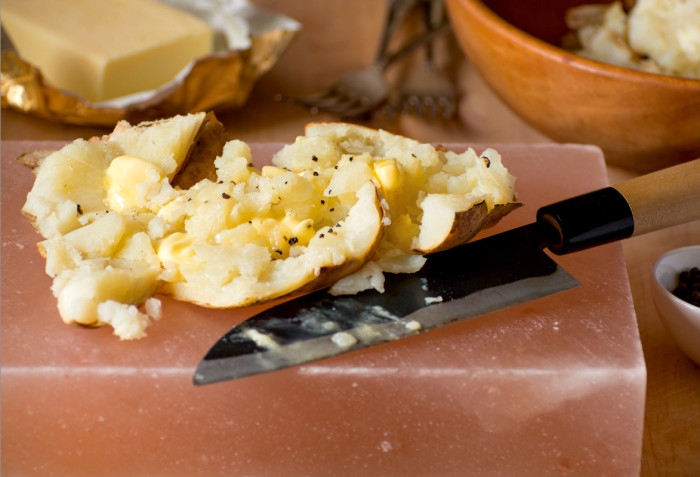 One of our favorite books of the summer (along with these other 7) is Mark Bitterman's The Salt Block Cookbook. We've never been so excited to see a big pink slab of salt! Next up, a salty, buttery dish of smashed potatoes unlike anything you've ever tasted.
Salt lovers have a tough time of it. We don't want to admit that we simply thrill to the taste of salted food; because salt is so primal, just talking about it makes us seem like compulsive maniacs. Eaters of sweets who can eat just three potato chips and then move on will never understand. Or will they? Smashing buttery potatoes down on a salt block is like making potato chips in surround sound, with big, thick, crispy skins warmed to salty, buttery perfection. There is nothing like it in the world, and if this doesn't unite us all as one smiling salty-sweet mass of humanity, I don't know what will.
Ingredients
1

(8-10 inch) square or round

salt block

4

baking potatoes, about 8 ounces each

2

tablespoons

unsalted butter

freshly ground black pepper
Directions
Preheat the oven to 400°F. Bake the potatoes until the largest one can be pierced easily, about 45 minutes.
Meanwhile, put the salt block on a burner over low heat to warm to about 200°F, about 30 minutes. If your burner doesn't go low enough, or you are using an electric burner, use a heat diffuser.
When the potatoes are fully baked, remove from the oven and cut into quarters. Working with one potato at a time, lay the quarters, skin side down, on the block. Put a portion of butter on each po­tato quarter and season liberally with pepper. Use a knife to chop and smash the potato, still in its skin, scraping it up off the block as it breaks apart. When the potato is roughed up good, put it in a serving bowl. Smash the other potatoes in the same way.
Try out these mashed potatoes recipes on Food Republic: