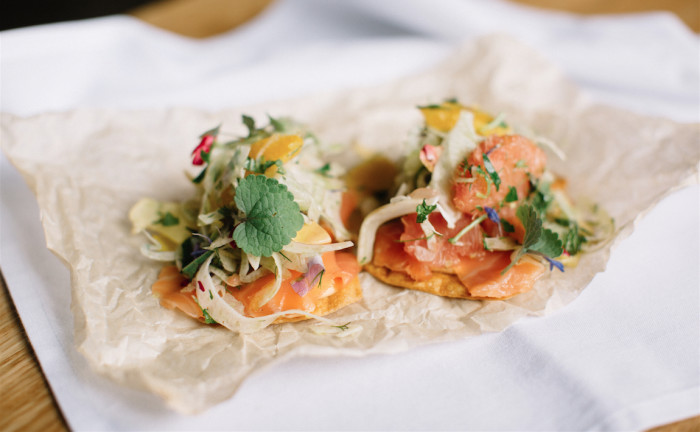 Chef Ben Poremba of St. Louis Mexican mecca Nixta loaned us this tostada recipe for Holy Frijoles Week. Tired of tacos? We don't really believe you; however if you're simply looking to switch things up and get a little crunchy, salmon tostadas may just be the thing to shatter you out of your rut. 
This recipe is a collaboration between myself and Executive Chef Tello Carreon. We like to take a familiar item and give an unexpected angle of refinement and ingredients. Tacos are just a couple of quick bites, but tostadas can give you a bit more, with more of a crunch. The salmon tostada was inspired by both of our heritages — Tello's Mexican background and my Israeli heritage. It's cured salmon, which we pair with more of a Mediterranean flavor profile: blood oranges, fennel, lime, mandarins. It's a prefect marriage of our backgrounds into one bite.
Tostada tip: using a tostada basket, line up (homemade or artisan quality) tortillas, and deep fry until crispy, for about 6-8 minutes. We use blue corn and yellow corn tortillas. This step can be done up to a day prior serving.
Ingredients
Citrus-Fennel Salad
1

fennel, shaved thinly using a mandolin

1

blood orange, segmented

1

large lime, segmented

1

sour orange, segmented

2

radishes, shaved thinly using a mandolin

10

fresh picked mint leaves, rough chopped

1/3

cup

extra virgin olive oil
Chile-Lime Mayo
1

cup

mayonnaise

1

teaspoon

Dijon mustard

1

tablespoon

sour cream

Juice and zest of 1 large lime

1/2

teaspoon

cayenne pepper

1/2

teaspoon

sweet smoked paprika

1/2

garlic clove, microplaned
4

yellow corn tostada shells, each 6-8 inch diameter

1/2

pound

fresh sliced sushi-quality salmon, or gravlax (cured salmon) or smoked salmon, homemade or bought from a high-quality producer like Russ and Daughters
Directions
For the salad
In a large bowl, combine all ingredients. Season with salt. Mix this salad just prior to serving to help maintain crispness.
For the mayo
In a large bowl, whisk all the ingredient together. Refrigerate until ready to use.
For the tostadas
Smear chile lime mayo on tostada shells. Top with a couple of slices of salmon. Mound with a fistful of fennel-citrus salad. Season with sea salt and a drizzle of olive oil. Serve immediately.