Salmon, Prawn And Tuna Kebabs Recipe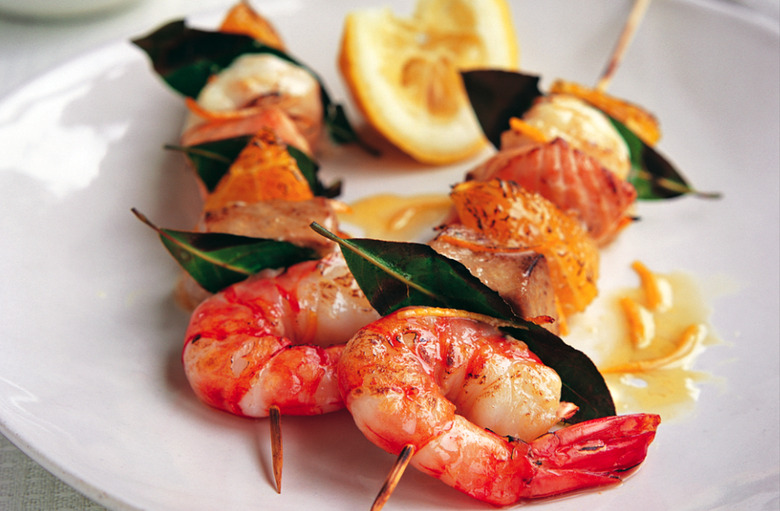 An orangey twist on a southern Italian classic. (Photo: Lisa Linder.
We may receive a commission on purchases made from links.
Italy has 20 regions, each home to a unique and delicious cuisine. Culinary instructor and cookbook author Katie Caldesi's book, The Italian Cookery Course, is a compilation of 400 of Italy's best recipes from simple to very complex. For this recipe, use three kinds of fresh fish and a citrusy touch for an unforgettable grilled seafood skewer
The combination of salmon marinated with orange occurs frequently in Italian cookery. However fish kebabs – found mainly in the south of Italy – traditionally contain lemon slices. By all means try this, but I often think the sharpness of the lemons overpowers the delicate fish, whereas orange gives an amazing sweet contrast without the acidity.
Salmon, Prawn And Tuna Kebabs Recipe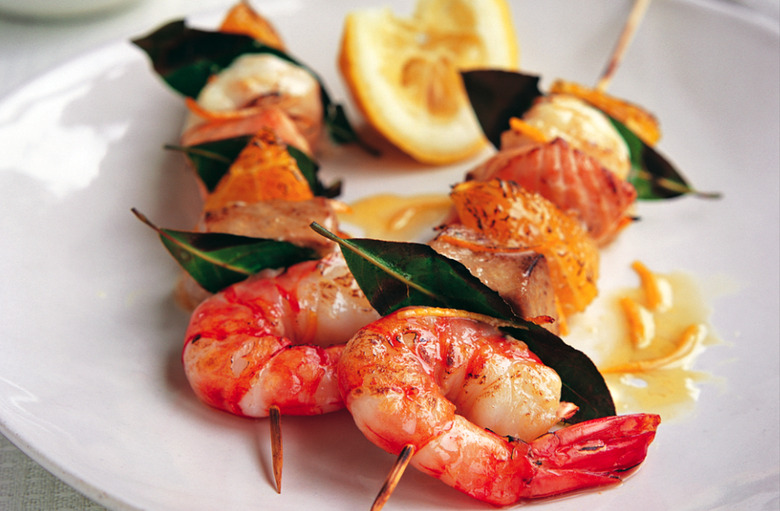 Ingredients
4 king prawns
1 tuna steak (about 5-6 ounces)
1 salmon fillet (about 8-9 ounces)
1 monkfish fillet (about 5-6 ounces)
zest and juice of 1 orange
1 Orange
12 bay leaves
3 tablespoons olive oil
salt
4 wooden or metal skewers
Directions
If you are using wooden skewers, soak them in water for at least 30 minutes to prevent them from burning. Put the prepared prawns and fish, the orange zest, orange slices and bay leaves into a lasagne or shallow ovenproof dish and pour over the olive oil and the orange juice. Dust with a good pinch of salt and toss the ingredients together gently with your fingers.
Leave to marinate for at least 30 minutes, or up to a day in the fridge, if necessary.
When you are ready to cook, preheat the grill while you make up the kebabs. Thread the fish and prawns onto the skewers, interspersing them evenly with the bay leaves and pieces of sliced orange. Strain and discard the orange zest from the marinade and reserve for basting. Put the skewers under the grill for around 10 minutes, or until done. Turn them halfway through and baste with the reserved marinade juices.
Serve with crusty bread, a good glass of rosé and a salad of lettuce and mint leaves.
Pork And Pineapple Kebabs Recipe
Seekh Kebabs Recipe
Fish Tikka Kebab Recipe