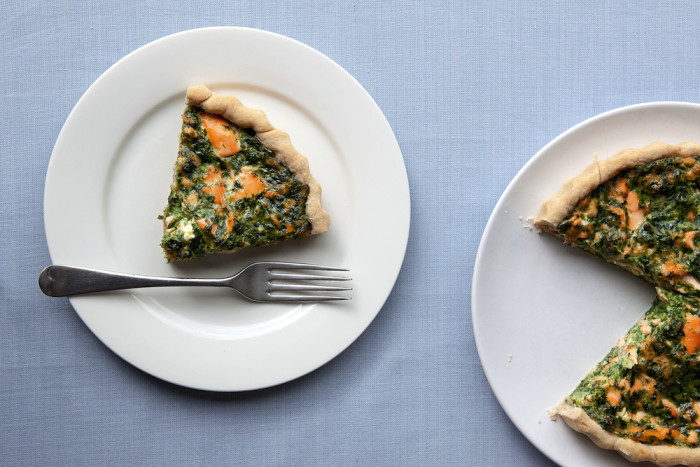 Don't call it a quiche, this Salmon and Spinach Pie recipe is so much more. First off, it doesn't involve eggs. Second, 2 pounds of spinach are packed into this pie and while cream and cheese may be used with a free hand, the benefits of all that healthy fish is nothing to scoff at.
Serve this versatile dish for any meal of the day. To be honest, it's pretty good right out of the fridge.
Ingredients
2

pounds

spinach

4

6-ounce

Salmon Fillets

3

tablespoons

butter, plus extra for greasing

1/2

cup

all-purpose flour, plus extra for dusting

2

cups

milk

pinch of

freshly grated nutmeg

pinch of

dried thyme

1

cup

gruyere cheese, grated

1/2

cup

heavy cream

1

sheet

pie dough, thawed if frozen
Directions
Put the spinach into a saucepan with just the water clinging to leaves after washing and cook for 5-10 minutes, then drain well. Squeeze out the excess moisture and chop.
Put the fish into a shallow saucepan, pour in water to cover, add a pinch of salt and bring just to a boil, then reduce the heat to low and simmer for 10 minutes.
Remove the fish with a fish slice (spatula), discard the skin and flake the flesh. Reserve the cooking liquid.
Preheat the oven to 325˚F. Lightly grease a pie dish with butter. Melt the butter in a saucepan, stir in the flour and cook over low heat, stirring constantly, for 2 minutes.
Gradually stir in the milk and 2 ladlefuls of the reserved cooking liquid. Season with salt and pepper, stir in the nutmeg and thyme and remove the pan from the heat. Stir in the cheese, cream, spinach and salmon.
Roll out the pastry dough into a round on a lightly floured counter and use to line the prepared pie dish. Line with a sheet of parchment paper, fill with baking beans or pie weights and bake blind for 15 minutes.
Remove the dish from the oven and increase the oven temperature 350˚F.
Remove the baking beans and paper from the pastry shell.
Spoon the spinach and salmon mixture into the pastry shell and bake for 30 minutes. Remove the pie from the oven and serve warm.