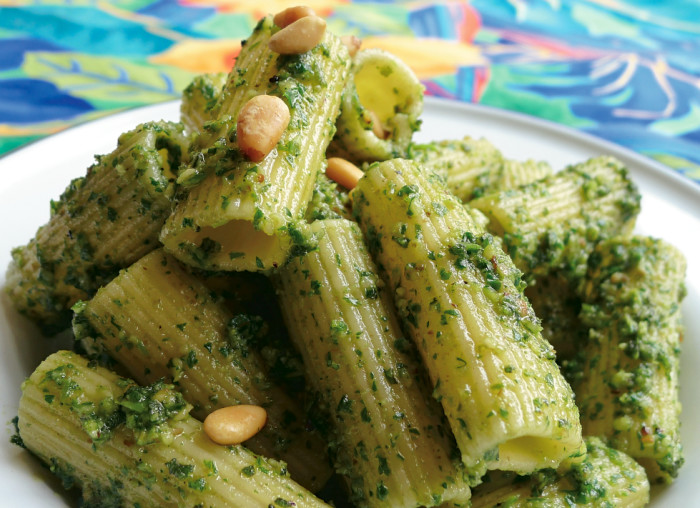 Liz Neumark of The Sylvia Center at Katchkie Farm in upstate New York teaches children how to grow, harvest and prepare healthy, natural, local food. Sylvia's Table, their just-released cookbook, is full of the Center's greatest hits. This variation on pesto incorporates peppery arugula and earthy, herbal sage for a fresh, simple sauce you'll slather on more than just pasta.
The flavors here are pretty assertive, but this pesto is great on boiled small whole potatoes or tossed with whole-wheat pasta. Use it as a sauce with pork, grilled steaks or seafood.
Ingredients
1

cup

extra-virgin olive oil

4

garlic cloves, 3 whole and 1 minced

1/2

cup

walnuts, shelled

4

cups

arugula leaves, loosely packed

1/2

cup

sage leaves

1/2

cup

Parmigiano-Reggiano, grated
Directions
Heat about 1 tablespoon of the oil in a small skillet over medium heat. Add the whole garlic cloves and sauté until they are golden brown, about 5 minutes; do not let the garlic burn or it will become bitter. Pour the garlic and oil from the pan and set them aside.
Toast the walnuts in the skillet over medium heat until golden, 1 to 2 minutes. Remove the walnuts from the heat.
Put the arugula, sage, walnuts, and both the sautéed and minced garlic in a blender or a food processor; pulse to mince the ingredients.
With the machine running, or while pulsing the food processor, slowly pour in the remaining oil and blend just until the ingredients are well incorporated.
Scrape the mixture into a bowl and stir in the cheese. Season with salt and pepper to taste.
More pesto recipes on Food Republic: