Rustic Tuscan Bean And Sausage Soup Recipe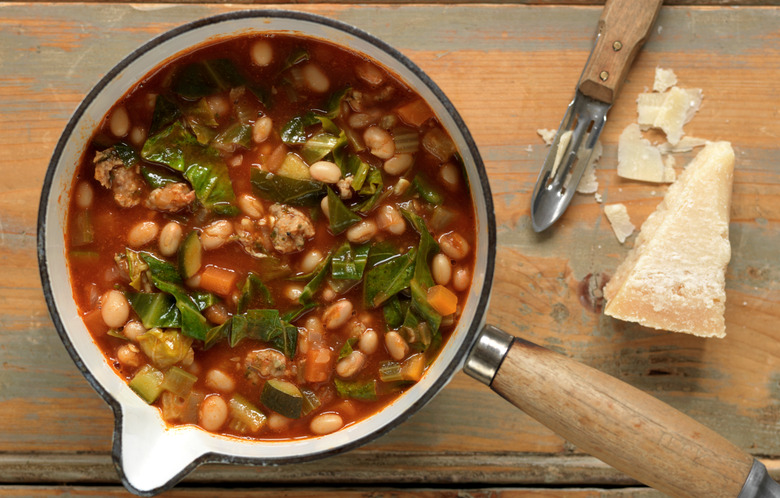 We may receive a commission on purchases made from links.
Hey, sometimes you don't have a ton of dough. It's close to rent day, you splurged on fancy winter camping equipment, it happens. Thankfully there's Cook On A Shoestring, from author Sophie Wright. Bet you never knew how to turn such a small amount of food into so, so very many meals. First up, a big pot of rib-sticking sausage soup all for around $20.
Turn to this recipe when it's cold outside, you don't particularly feel like going out and you need something warm and comforting in your belly. This soup is brilliant for adults and children at any time of the day. It contains lots of carbs to keep you going, and the best part is it's even better the next day, so make a bit extra!
Rustic Tuscan Bean And Sausage Soup Recipe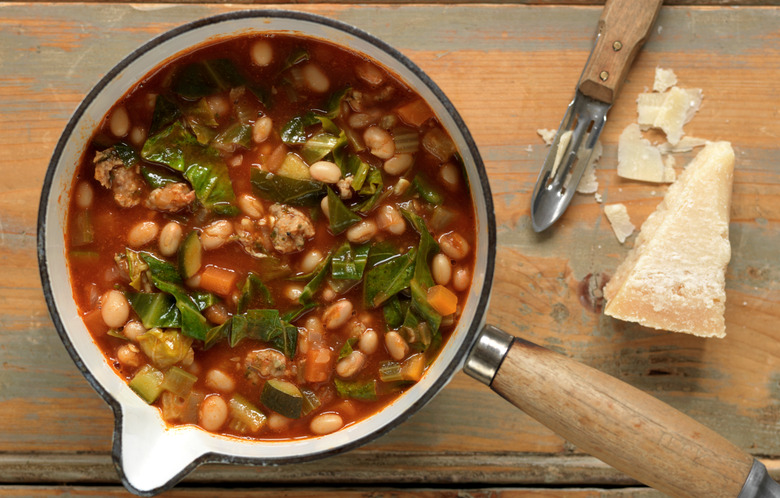 Ingredients
2 tablespoons olive oil
2-3 links pork sausages
1 large onion
2 garlic cloves
2 celery stalks
1 carrot
3 tablespoons tomato paste
4 cups chicken or vegetable stock
1 (15-ounce) can navy or cannellini beans
Salt and freshly ground black pepper
green cabbage such as kale or savoy
tomatoes that have seen better days
zucchini
crusty bread
Parmesan cheese
Directions
Place a large Dutch oven or heat-proof pan on the stove and add the olive oil along with the sausage, breaking it up roughly with your fingers. Brown the sausage for a few minutes and break it up a bit more with a spatula.
Add the onion, garlic, celery, and carrot and cook for another 5 to 6 minutes. Add the tomato paste, the stock, and the beans. Season and simmer for 20 to 30 minutes.
If you are adding any cabbage, tomatoes, or zucchini to the soup, add them 5 minutes before serving so they don't overcook. Serve with crusty bread and some grated Parmesan, if you wish.
Autumn Cabbage And Smoked Meat Borscht Recipe
Sweet & Sour Cabbage Soup With Dill Recipe
Ethiopian Chicken Doro Wat Recipe