Rustic Italian: Gnocchi Rotella With Black Olive Relish Recipe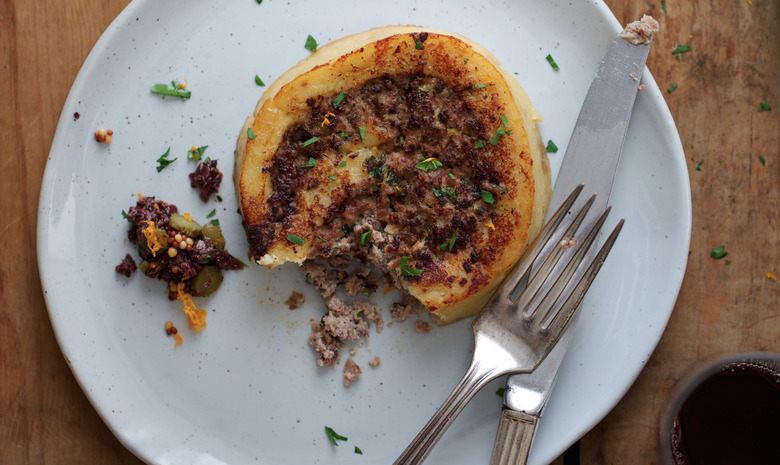 We may receive a commission on purchases made from links.
Dig into this collection of recipes from the historical barn restaurant of Wyebrook Farm, in Honey Brook, Pennsylvania. Authored by the team of owner Dean Carlson and prolific food writer and editor Ian Knauer, Field & Feast pays homage to peak seasonal vegetables, fresh meat and game and simple, rustic preparations of the best ingredients nature has to offer.
Gnocchi dough encases a rich ragu of organs and fresh ricotta for a most intriguing take on meat and potatoes. The briny relish balances and rounds out each bite. Unless you're slaughtering your own pig, you'll have difficulty finding lung. No worries — this recipe is equally delicious without it.
Rustic Italian: Gnocchi Rotella With Black Olive Relish Recipe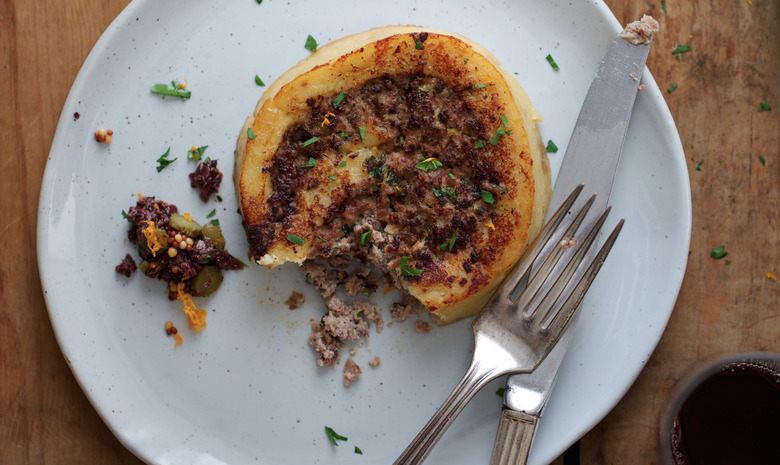 Ingredients
1 pork heart
2 pork kidneys
1 pork lung
Fine sea salt and freshly ground black pepper
8 cups Rich Pork Stock or Rich Chicken Stock; if not using a lung, only 4 cups stock
3 garlic cloves
2 tablespoons unsalted butter or extra-virgin olive oil
1 onion
2 cups fresh ricotta cheese
2 tablespoons finely chopped flat-leaf parsley
1 teaspoon finely chopped fresh thyme leaves
2 pounds yukon gold potatoes
1/4 cup coarse sea salt
2 large eggs
1 1/2 cups all-purpose flour
1 cup finely grated Parmigiano-Reggiano
1/2 cup unsalted butter
fine sea salt
1/4 cup rendered animal fat or extra-virgin olive oil
1/2 cup pitted kalamata olives
1/3 cup cornichons
3 tablespoons capers in brine
3 tablespoons extra-virgin olive oil
2 teaspoons whole-grain mustard
2 teaspoons finely grated orange zest
Directions
:::filling:::
Preheat a grill, preferably with hardwood or hardwood charcoal. Season the heart, kidneys, and lung (if using) with ¼ teaspoon each salt and pepper, then grill over direct heat, turning once, until charred on the outside, 10 to 12 minutes.
Bring the stock to a simmer in a medium saucepan, then add the heart, kidneys, and lung, and simmer until cooked through, 12 to 15 minutes. Remove the organs from the stock and let cool slightly. Grind the organs with the garlic using an eighth-inch die on a meat grinder. (Alternatively, you can very finely chop the meats and garlic together.) Place the ground mixture in a large bowl.
Heat the butter in a large heavy skillet over medium heat, then add the onions and ½ teaspoon each salt and pepper, and cook, stirring occasionally, until translucent, about 5 minutes. Add the onions to the ground meats in the bowl. Stir in the ricotta, parsley, and thyme and season with salt and pepper to taste.
:::gnocchi dough and relish:::
Preheat the oven to 425°F. Place the potatoes on a baking sheet, then sprinkle with the coarse sea salt. Roast the potatoes until tender, about 1 hour. Let cool slightly, then peel. Force the potatoes through a ricer into a bowl, then stir in the eggs, flour, cheese, butter, and ½ teaspoon salt to form a dough.
Place a large sheet of aluminum foil on a work surface, then place overlapping sheets of plastic wrap over the foil. Transfer the gnocchi dough to the plastic wrap and pat with floured hands into a rough rectangle. Lightly flour the surface of the dough, and using a floured rolling pin, roll the dough into a 15 x 12-inch rectangle. Spread the ragu evenly over the dough, leaving a 1-inch border on the long sides of the rectangle. Using the plastic and foil as a guide, roll the dough up and around the filling, like a jellyroll. Shape the dough into a thick cylinder wrapped in the plastic and foil, squeezing and tightening the ends of the foil to enclose the gnocchi.
Bring a large pot or a fish poacher of water to a simmer. Place the gnocchi cylinder in the simmering water and poach, turning frequently so it will cook evenly, for 35 minutes. Let the gnocchi cool slightly, then unwrap and cut into 1-inch-thick slices.
Heat the rendered fat in a large heavy nonstick skillet over medium-high heat until hot. Working in batches, sear the gnocchi slices, turning once, until golden brown, about 6 minutes total. Transfer to a serving platter.
While the gnocchi poaches, make the relish: Combine the olives, cornichons, capers, oil, mustard, and orange zest in a food processor and pulse until coarsely chopped.
Serve the gnocchi slices topped with the relish.