Rolled Flank Steak Recipe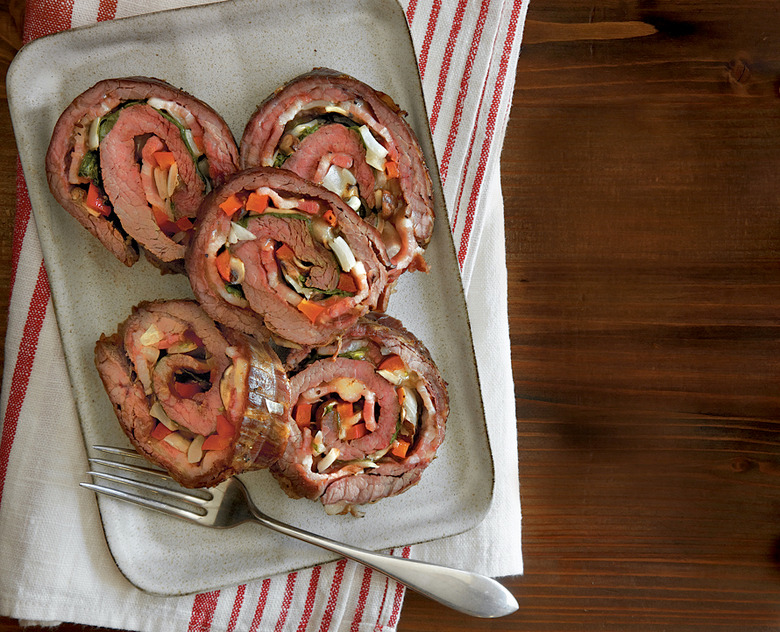 stuffed flank steak recipe
Flank steak is a great cut of meat — it soaks up flavor, chars nicely on the grill and has tons of beefy flavor owing to the well-muscled underbelly of the cow. Using a butterfly technique, you can make the most of this tasty cut by stuffing it.
One thing to keep in mind while making this stuffed flank steak is the grain of the meat. Keeping everything running with the grain, not against, will ensure clean slices and prevent "knife-sawing syndrome."
Rolled Flank Steak Recipe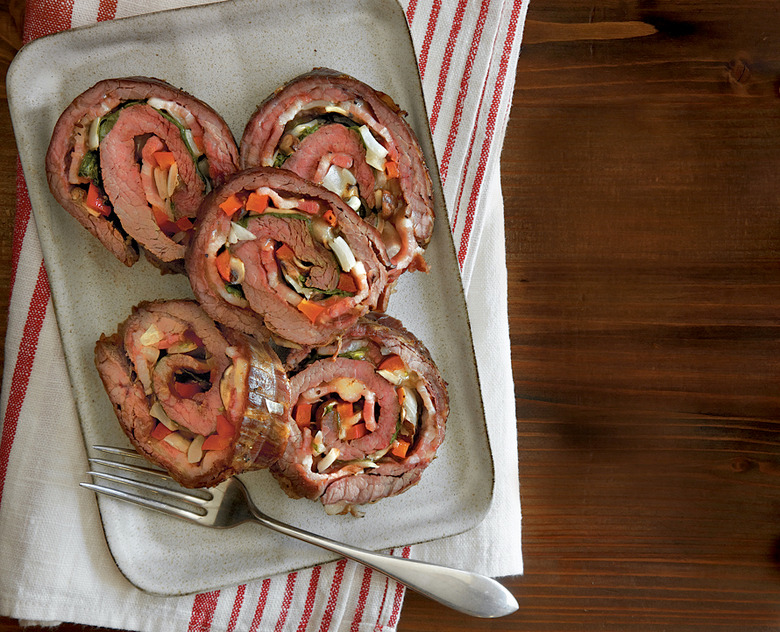 Ingredients
1 2-pound flank steak
1/2 cup olive oil
1/4 cup soy sauce
2 teaspoons steak seasoning
2 tablespoons garlic
1/2 pound provolone cheese
4 thick slices bacon
1/2 cup baby spinach
1/2 cup cremini mushrooms
1/2 red bell pepper
1/2 cup onion
Directions
Place the flank steak on a cutting board with a short end facing you. Starting from one of the long sides, cut through the meat horizontally to within 1/2 inch of the opposite edge.
Combine the oil, soy sauce, and steak seasoning in a 1-gallon zip-top plastic freezer bag. Add the steak, zip the bag shut, and squeeze to coat the steak. Marinate in the refrigerator 4 hours or overnight.
Preheat the oven to 350°. Grease a large cast iron Dutch oven.
Lay out the flank steak flat in front of you with the grain of the meat running from left to right. Spread the garlic evenly over the meat and sprinkle with steak seasoning to taste.
Layer the provolone over the steak, leaving a 1-inch border on all sides. Arrange the bacon, spinach, mushrooms, bell pepper, and onion over the cheese in stripes running in the same direction as the grain of the meat.
Roll the flank steak up and away from you so that when the roll is cut into the pinwheel shape, each of the filling ingredients can be seen; roll firmly, but be careful not to squeeze the fillings out the ends. Once rolled, tie with kitchen string, securing at 2-inch intervals.
Place the stuffed steak into the prepared Dutch oven and bake until a meat thermometer inserted in the center of the stuffed steak registers 145°, about 1 hour.
Remove the stuffed steak from the Dutch oven and let stand 5 to 10 minutes before cutting into 1-inch-thick slices. Remove the string before serving.