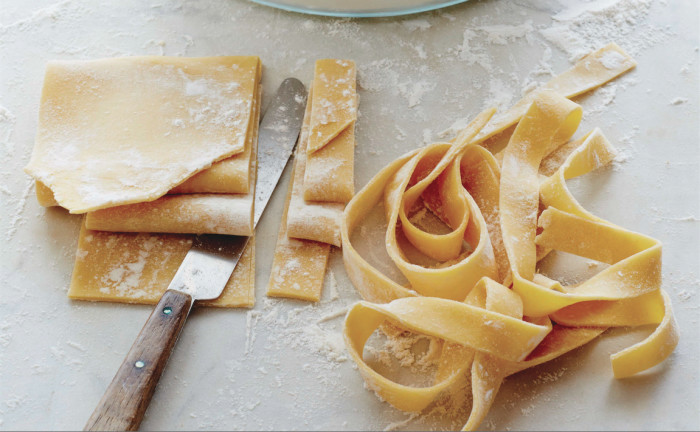 Whether it's sweet, savory or somewhere right in between, there's nothing like the bright, tart burst you get from adding citrus to a recipe. Enhance every course with colorful, juicy fruits from the ordinary to the exotic with Citrus: Sweet and Savory Sun-Kissed Recipes, a new cookbook by chef and writer Valerie Aikman-Smith. 
Once you've seen how easy it is to make fresh pasta, you'll wonder why you haven't made it before. These rustic noodles need only a splash of excellent olive oil and a dusting of grated Parmesan to make a memorable dinner. You will need a pasta machine, either a hand-cranked model, an electric machine or one that attaches to a stand mixer.
Ingredients
3 1/2

cups

flour

6

eggs

Zest of 3 lemons

2

tablespoons

freshly squeezed lemon juice

Pinch of fine sea salt
Directions
For the pappardelle
In a food processor, combine the flour, eggs, lemon zest, lemon juice and salt and process until the mixture comes together.

Turn the mixture out onto a floured work surface and knead together for 5 minutes, until smooth. Wrap in plastic wrap and set aside at room temperature for 1 hour.

Cut the dough into 6 equal pieces. Work with 1 piece at a time and keep the remaining pieces covered. Flatten the piece between your palms until it's about 1⁄2 inch thick.

Set the rollers of your pasta machine to the widest setting and feed the dough through. Fold the dough in half and repeat on this setting 6 times. Turn the knob of the pasta machine to the next setting and feed the dough through the rollers. Continue to decrease the roller setting after each pass, until the pasta sheet is the desired thickness. Lay the pasta on a lightly floured work surface and cover with a towel. Repeat the process with the remaining dough.

Fold each pasta sheet in half, and then in half again. With a sharp knife, cut the dough into wide strands.

At this point, the pasta is ready to cook. Or you can freeze the pappardelle in an airtight plastic bag for up to 6 months and then cook straight from the freezer.

To cook and serve the pasta, bring a large pot of water to a boil and add 1 teaspoon of salt. Add the pasta and cook until it floats to the top, about 5 minutes or until al dente.