Roasted Vegetable Tart With Cheddar-Cornmeal Crust Recipe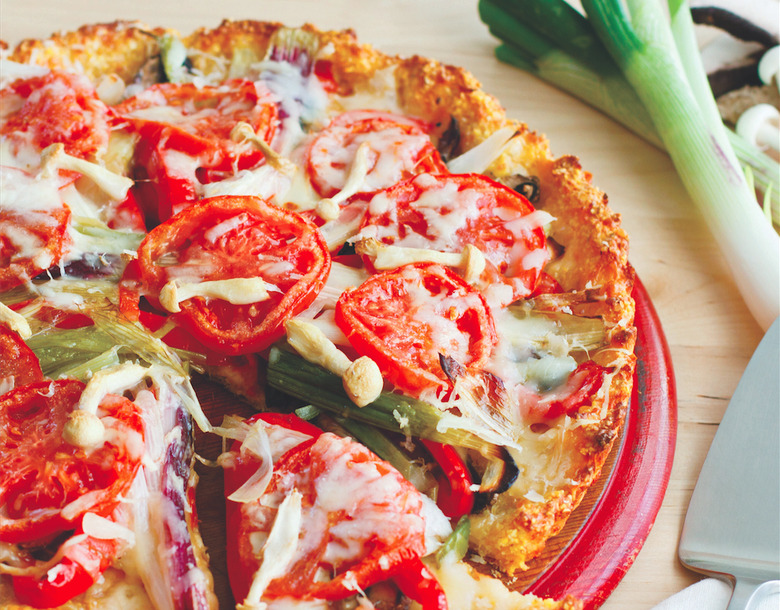 We may receive a commission on purchases made from links.
You know and love it: It's Cabot cheddar — creamy, awesome and the star of The Cabot Creamery Cookbook. This collection of recipes from dairy farmers across the country is as sharp as it is delicious, and if you're a fan of cheddar cheese, add this book to your food library. A cheddar-infused cornmeal crust is exactly what your roasted vegetables need. 
This beautiful tart makes a gorgeous centerpiece for a vegetarian meal or a contribution to a buffet or potluck. You can switch  up the vegetables depending on what's fresh at the market; roasting them really brings out their flavor.
Roasted Vegetable Tart With Cheddar-Cornmeal Crust Recipe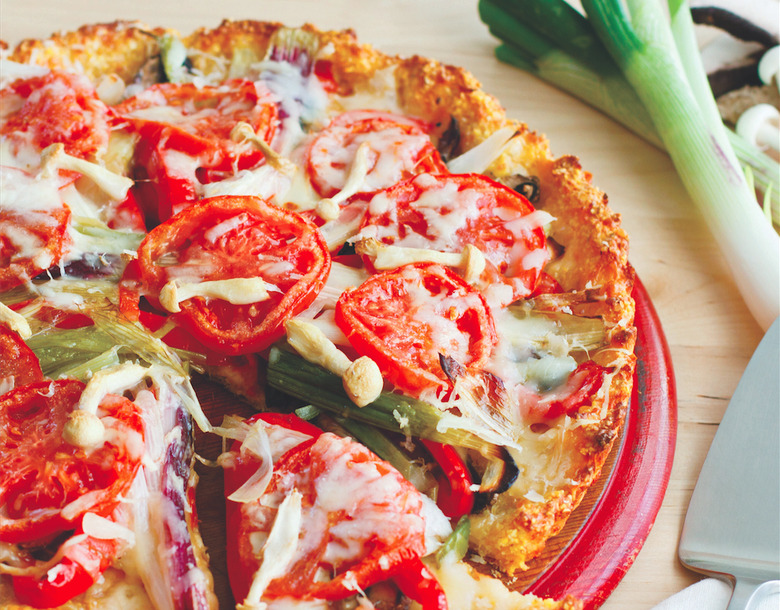 Ingredients
1 cup plain or stone-ground yellow cornmeal
2 cups shredded Sharp Light Cheddar
1 teaspoon sugar
1/2 teaspoon kosher salt
1 large egg
1/3 cup 2% reduced-fat milk
2 1/2 tablespoons olive oil
3 small tomatoes
1 bunch green onions
2 portobello mushrooms
1 medium-sized red bell pepper
8 delicate mushrooms
2 tablespoons finely shredded Alpine Cheddar or Parmesan
Directions
Preheat oven to 400°F. Coat an 11-inch tart pan with cooking spray.
Stir together cornmeal, 1 cup shredded cheddar, sugar and salt in a medium bowl.
Whisk egg until frothy in another bowl; then whisk in milk and 1 1/2 tablespoons oil.
Stir milk mixture into dry ingredients until well blended.
Press crust mixture over bottom and slightly up sides of tart pan. Bake crust 14 to 16 minutes or until lightly browned. Cool on a wire rack.
Line a large rimmed baking sheet with parchment paper. Arrange tomatoes, green onions, portobellos and bell pepper on sheet, and drizzle with remaining 1 tablespoon oil. Season with salt and pepper to taste.
Roast vegetables 15 minutes or until just tender; cool slightly.
Layer portobello mushrooms in crust; top with bell pepper strips. Sprinkle with 1/2 cup of remaining cheddar.
Add a layer of green onions and then a layer of tomato slices. Sprinkle with remaining 1/2 cup cheddar.
Arrange enoki or oyster mushrooms on top, and sprinkle with Alpine Cheddar or Parmesan.
Bake tart 20 minutes or until lightly browned on top.
That's One French Tart. Make This Pissaladière Recipe
Check Out This Video Of A Spiral Vegetable Tart, Then Try The Recipe
Simple Tomato Tart Recipe