Roasted Root Vegetables With Romesco Sauce Recipe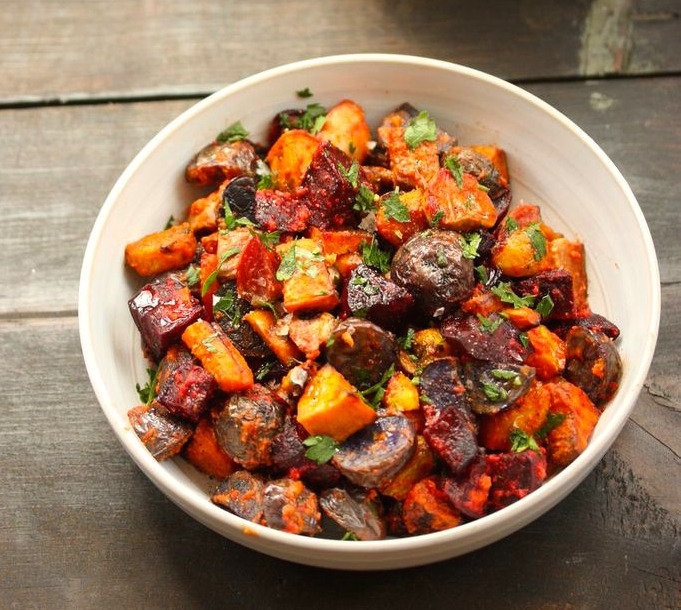 This romesco sauce will pair well with just about anything. Try it with root vegetables. (Photo: Justin Lanier.
We may receive a commission on purchases made from links.
It's not just for frozen drinks anymore! That's right, your blender is one useful appliance. We've been reminded of this very obvious (but important) fact in author Rebecca Ffrench's new Ultimate Blender Cookbook. Suddenly, sauces, baking and even burgers have taken on new life. This thick, flavorful romesco sauce is the best thing to come out of your blender since that "okay" smoothie.  
Romesco is a garlicky sauce that originated in Spain. I've encountered quite a few variations on this mild sauce over the years and seen it used in many ways—over vegetables, with fish, and even with a salad. Here I've paired it with roasted vegetables, but it's even good just spread on a piece of warm baguette.
Reprinted with permission from The Ultimate Blender Cookbook
Roasted Root Vegetables With Romesco Sauce Recipe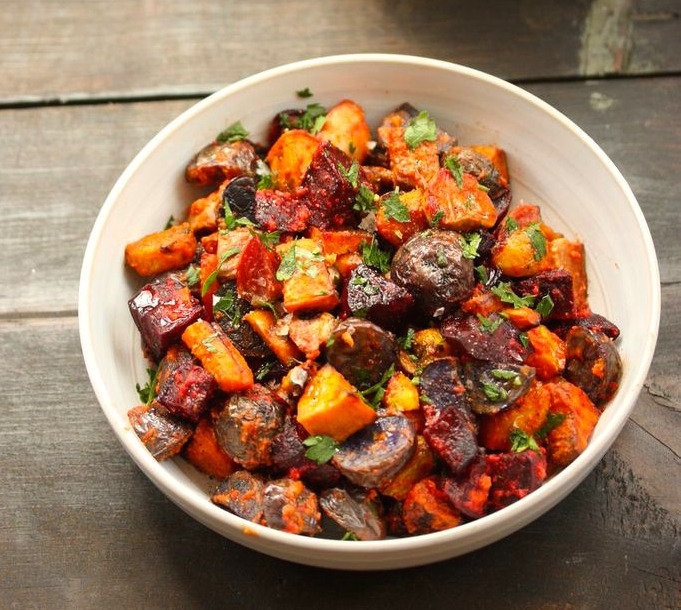 Ingredients
1 ancho chile
3 red peppers
1/3 cup hazelnuts
1 (14-ounce) can fire-roasted tomatoes
3 cloves garlic
2 tablespoons flat-leaf parsley
2 tablespoons red wine vinegar
1 teaspoon smoked paprika
1/4 cup plus 2 tablespoons extra virgin olive oil
3 pounds assorted root vegetables (such as carrots
1/2 teaspoon kosher salt
1/4 teaspoon freshly ground black pepper
Directions
Preheat the oven to 450°F.
Place the ancho chile in a bowl and cover it with boiling water.
Allow it to sit for 30 minutes, then drain.
Place the red peppers on a foil-lined baking sheet and set in the oven for 40 minutes or until the skins have begun to char and are wrinkled.
Then remove the peppers from the oven and immediately put them in a brown paper bag to steam. Make sure the top of the bag is tightly rolled down to create a seal.
After about 15 minutes, the peppers should be cool enough to handle and you will be able to easily remove the skins.
Reduce the oven temperature to 400°F.
Meanwhile, put the hazelnuts in the blender and pulse them until they're coarsely ground.
When your peppers are ready, add them to the blender with the reserved chile, tomatoes, garlic, parsley, vinegar, paprika and 1/4 cup of the oil. Puree until smooth.
Put the cubed vegetables on a baking sheet and toss with the remaining 2 tablespoons olive oil and the salt and pepper.
Roast for 40 minutes or until tender and golden, turning the vegetables several times with a spatula while roasting.
Transfer the roasted vegetables to a bowl and toss with romesco sauce.
Roasted Vegetable Udon Recipe
Maple Roasted Carrots And Parsnips Recipe
Roasted Potatoes With Huancaina Sauce