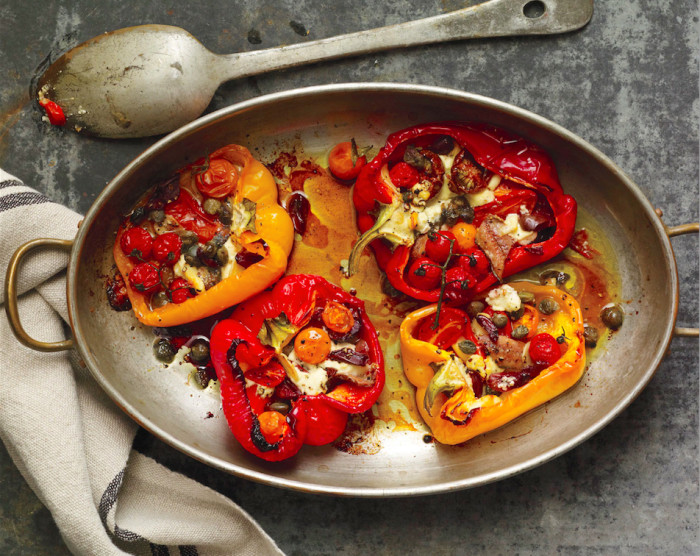 Your cookbook inventory is not complete without a volume or two from best-selling cookbook author and food writer Nancy Harmon Jenkins. For the olive oil fan, her new book, Virgin Territory, is essential. Part olive oil primer and part olive oil recipe goldmine, Jenkins's guide to all things EVOO will revolutionize the way you make healthy substitutions.
My take on the pepper-and-anchovy antipasto that is so deservedly popular with Italian cooks is a little different from the usual, and very easy to throw together. Serve it as an antipasto, or as a contorno to go with grilled meat or fish, or chop the finished peppers with all the other ingredients and use it to top a dish of pasta. I use big late-summer peppers, mostly red but throwing in a few yellow ones for a colorful touch. I figure on half a pepper per serving — so two peppers will serve four, but use your judgment: Smaller peppers from the farmers' market might come out to two per serving.
Ingredients
2

big

sweet red peppers (or 1 red and 1 yellow) or 4 medium peppers

Olive

oil

2

cloves

garlic, thinly sliced

5

or 6

cherry or grape tomatoes, cut in half

4

anchovy fillets, each one cut into 3 or 4 bits

2

tablespoons

salted capers, rinsed

About

1/4 cup

fresh goat cheese (chevre)

6

pitted black olives, coarsely chopped (optional)

Freshly

ground black pepper

Chopped

fresh basil leaves for garnish
Directions
Preheat the oven to 375°F.
Cut the peppers in half the long way and remove the seeds and inner white membranes, but leave some of the stem to keep each half intact.
Lightly oil a baking dish in which all the halves will fit comfortably in one layer and set the peppers in the dish, skin-side down.
Now add to the inside of each half: a few thin slices of garlic; 2 or 3 cherry or grape tomato halves, cut-side down; 3 or 4 bits of anchovy fillet; and a half dozen or so capers.
Add a dab of the goat cheese and some of the chopped olives, if using, but don't get too carried away. Remember, simpler is always better in the kitchen.
Now top each pepper half with 1 or 2 teaspoons olive oil and several grinds of black pepper. No salt, because the anchovies and capers will take care of that.
Slide the dish into the oven and let the peppers roast for 40 to 50 minutes, until they are tender all the way through and the edges are brown.
Remove and serve immediately, or set aside and serve later at room temperature. They make a great addition to a meze or buffet table, although they're hard to eat standing up.
For an extra touch, sprinkle some chopped fresh basil over each half just before serving.
Find more hot appetizers on Food Republic: