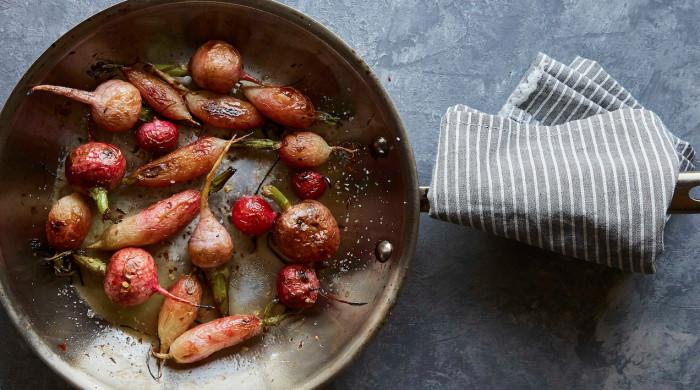 We'll never pass up a fantastic cookbook by a chef who's turned the focus squarely to vegetables. Portland's Joshua McFadden of renowned eatery Ava Gene's takes you on a tour of the bountiful garden through all the seasons. These roasted radishes with brown butter, chile and honey will renew your love for a veggie that doesn't have to be served raw. 
Raw radishes and fresh butter are a classic pairing, but here we cook the two together until toasty and nutty. A splash of vinegar, a pinch of chile, and a drizzle of honey create a delicious tension that makes this dish unexpectedly satisfying.
Ingredients
extra-virgin olive oil

2

bunches

radishes, with their tops if they're nice and fresh, radishes halved lengthwise if large

Kosher salt and freshly ground black pepper

Dried chile flakes

2

tablespoons

unsalted butter

2

tablespoons

red wine vinegar

2

tablespoons

honey
Directions
For the radishes
Heat the oven to 375°F.

If you're using the greens, cut them from the bunch of radishes and wash well in cool water, as you would salad greens. Once they're hiding no more grit, spin them dry in a salad spinner.

Put a small slick of olive oil in a large ovenproof skillet and heat over medium-high heat.

Arrange the radishes cut side down and cook until lightly browned, about 3 minutes. Transfer to the oven and roast until the radishes are nicely browned and starting to get tender, about 10 minutes.

Add the radish greens and roast until the radishes are fully tender and the greens have wilted, another 5 minutes.

Take the skillet from the oven and set over low heat on the stove (careful, the handle is hot!). Season nicely with salt, black pepper, and 1/2 teaspoon chile flakes. Add the butter and cook until the butter has melted and is starting to get golden brown and nutty smelling, 2 to 3 minutes.

Add the vinegar to the skillet and gently fold everything to combine. Drizzle on the honey and fold again. Taste and adjust the seasoning with more salt, black pepper, chile flakes, vinegar, or honey. Serve warm.