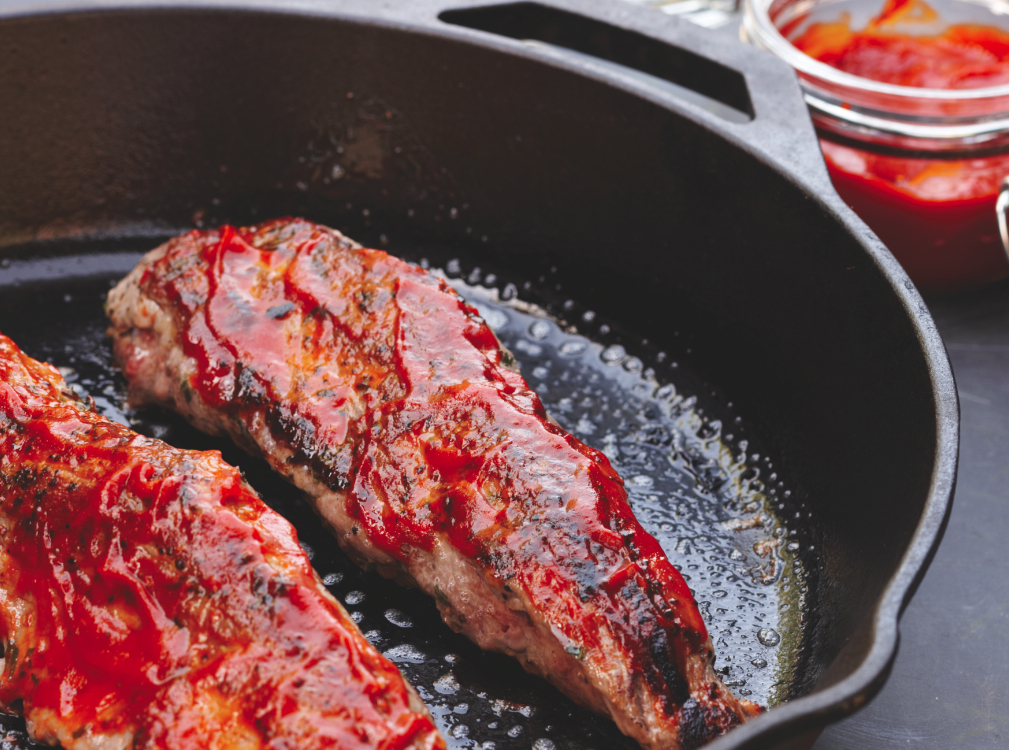 Tucson, Arizona's Miraval Resort is a rare haven where natural beauty and excellent cuisine meet. While we're crazy about their lobster and arugula salad (we featured the recipe here), their roasted pork tenderloin with sweet, tangy chipotle barbecue sauce strikes the rare balance between meaty perfection and a light, healthy meal.
Pork tenderloin is a great cut of meat. Each one averages about a pound in weight, perfect for four portions or for serving two people with some leftovers. The meat is lean and extremely tender and adapts to all sorts of flavors. In this dish, the mild pork gets paired with a smoky-sweet chipotle sauce. Serve the pork with a simple side, such as quinoa or herbed rice.
Reprinted with permission from Miraval's Sweet & Savory Cooking
Ingredients
Pork Tenderloin
Olive oil cooking spray

1

1-pound

pork tenderloin

1/8

teaspoon

kosher salt

1/8

teaspoon

freshly ground black pepper

1

tablespoon

chopped fresh mix of thyme, flat Italian parsley, and oregano

1/2

cup

chipotle sauce
Chipotle Sauce
1/4

teaspoon

extra virgin olive oil

1/2

cup

onion, finely chopped

1/4

cup

apricots, finely chopped

1 1/2

teaspoons

fresh garlic, minced

1 1/2

teaspoons

fresh ginger, minced

3/4

cup

ketchup

1/3

cup

apple cider vinegar

2

tablespoons

soy sauce

1/2

cup

lightly packed dark or light brown sugar

1

tablespoon

dry mustard

1/4

cup

chili sauce

2

canned chipotle peppers, finely chopped

1/4

cup

orange juice

6

ounces

lager style beer, such as Budweiser or beer of your preference
Directions
For the pork tenderloin:
Heat the oven to 400°F.
Heat a medium, ovenproof sauté pan over medium-high heat and lightly coat with olive oil cooking spray.
Season all sides of the pork tenderloin with salt, pepper, and fresh herbs.
Add the pork to the pan and sear on one side for 1 to 2 minutes. Turn and continue searing until browned all over.
Place the pan in the hot oven and finish cooking, another 3 to 5 minutes. Aim for pork that's light pink in the center. Let the pork rest for another 3 to 4 minutes and then cut into slices.
For the chipotle sauce:
Heat the olive oil in medium saucepan.
Add the onion, apricots, garlic, and ginger. Sauté for about 2 minutes.
Add the ketchup, vinegar, soy sauce, brown sugar, mustard, chili sauce, chipotles, orange juice, and beer.
Bring the sauce to a boil, reduce the heat to a simmer, and simmer for about 30 minutes to blend the flavors and thicken the sauce.
To serve:
Arrange the pork slices on each plate and drizzle with 2 tablespoons of warm chipotle sauce.
Try some other pork recipes on Food Republic: