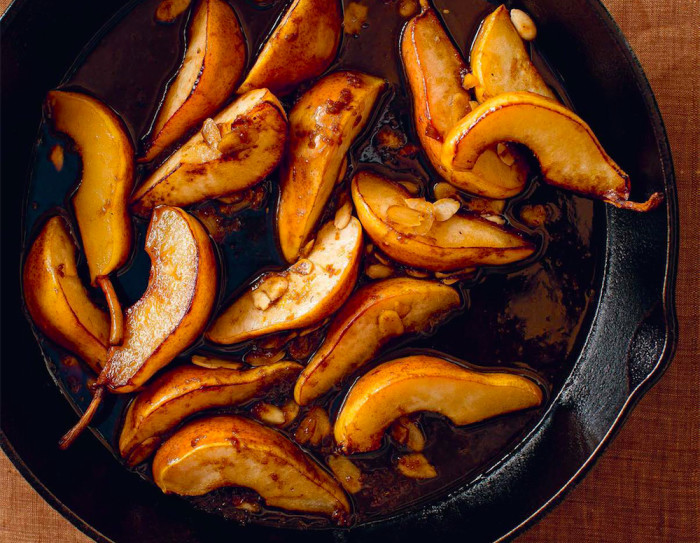 When it comes to the Clean Food Movement, look no further than pioneer best-selling author Terry Walters, whose new book Eat Clean Live Well is a testament to delicious, healthy and most importantly, clean food.
These warm and caramelized pears are about to become your go-to fall dessert. We like them served over coconut non-dairy ice cream, and I always make extra to enjoy over steel cut oats in the morning.
Ingredients
4

ripe pears, Bosc or d'Anjou

1

teaspoon

virgin coconut oil

2

tablespoons

maple syrup

2

tablespoons

balsamic vinegar

1

tablespoon

lemon juice

zest and juice of 1 orange

1/4

cup

sliced almonds, toasted
Directions
Preheat oven to 400°F.
Quarter pears by cutting from stem to base.
Using a melon baller, scoop out and discard core.
Melt coconut oil in cast iron skillet over medium heat.
Place pears flesh-side down and sauté 3 minutes on each side until lightly browned.
In small bowl, whisk together maple syrup, balsamic vinegar, lemon juice, orange zest and orange juice.
Add almonds and drizzle mixture evenly over pears.
Transfer skillet to oven and bake 10 minutes or until pears are soft and caramelized. Remove from oven and serve.
Find more pears for dessert on Food Republic: