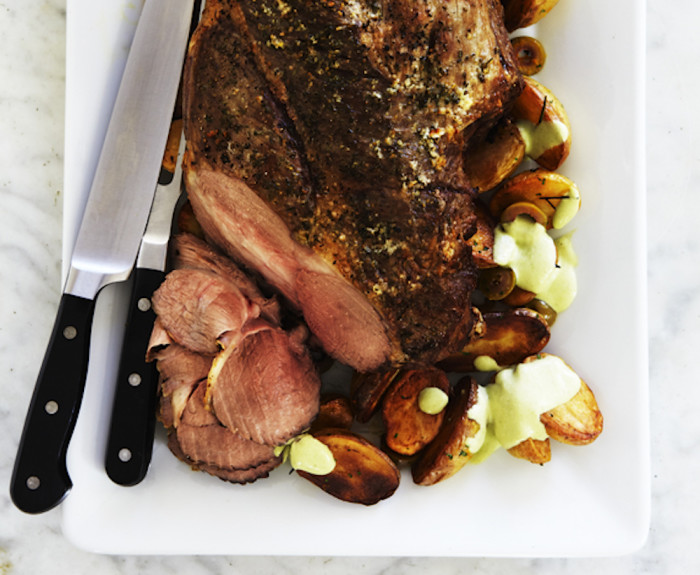 Nils Noren is the Vice President, Restaurant Operations for the Marcus Samuelsson Group (full disclosure: Samuelsson is a co-founder of Food Republic). This fall, Noren will release a cookbook in Swedish, 10 Techniques, 100 Recipes. Here, he gives us a sneak peek (albeit in English). Follow him on Twitter at @nilsnoren.
There's always the challenge of finding the right balance of acid and fat. Rich, flavorful meat like leg of lamb typically finds balance with a tart red wine reduction or tangy yogurt sauce, but heading south of the border with a creamy, slightly spicy tomatillo salsa will certainly do the trick.
Chef Noren's trick to getting a perfect, even medium-rare?
"I start the roasting on high heat to ensure that you get the nice browning that gives it such a great flavor. When that is achieved I take it out, lower the temperature, then put it back to finish so it roasts more evenly."
Serve this dish with our easy garlic roasted potatoes for an impressive meal packed with flavor and a lot of potential for leftovers. Do we hear awesome breakfast hash?
Ingredients
For the lamb
1

4-5 pound

leg of lamb, trimmed of fat

3

tablespoons

chopped thyme

black pepper

salt

oil
For the salsa
1

clove

garlic

1/4

cup

cilantro leaves

1/2

cup

extra virgin olive oil

salt
Directions
For the lamb:
Rub the meat with the salt, black pepper and thyme, then brush with oil.
Place the leg of lamb on a baking rack with a pan underneath to catch any drippings from the meat.
Heat the oven to 450F, place the lamb in the middle of the oven. Roast until the lamb is starting to get golden brown, should take about 15 minutes.
Take the lamb out of the oven and lower the temperature to 300F.
Place a thermometer in the thickest part of the leg. Put back in the oven and continue to roast until it reaches a inner temperature of 125F for medium-rare (about 2 hours) or higher for more well-done.
Let rest for 20 minutes before serving.
For the salsa:
Heat the oven to 425F.
Place the tomatillos, jalapenos and garlic in aluminum foil and close up to create a packet. Roast in the oven for 30 minutes.
Take out and open the bag carefully as it will have steam inside. When cool, put the tomatillo, jalapeno and garlic in a blender together with the cilantro.
Start blending and slowly add in the olive oil.
Season with salt.