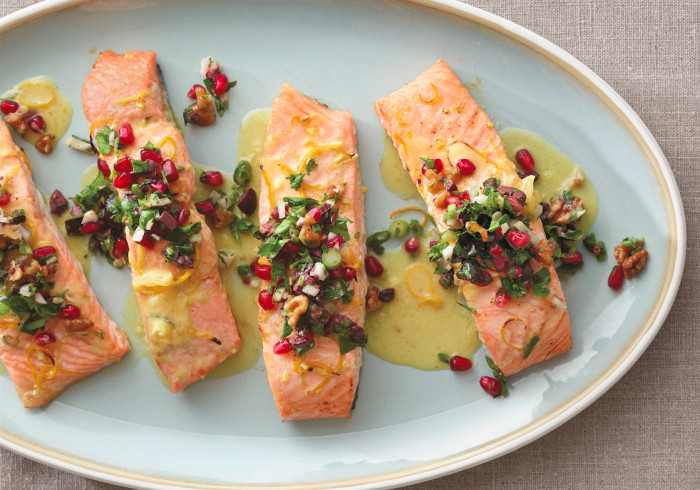 Feel like a pick-me-up? For your general disposition, that is. Chef and wellness expert Rebecca Katz, along with writer Mat Edelson, penned The Healthy Mind Cookbook. It's full of recipes that are packed with flavor and extra nutrition where you need it most (hello omega-3's), and best of all, they look beautiful on the plate, like this stunning salmon.  
All I can say is get out your camera, because when you make this dish you're going to want to take a picture before you serve it. It's just that pretty, with the peach of the salmon, the ruby-red jewels of the pomegranate seeds, the vibrant green of the parsley. The taste is no less sensational, with the citrus and herbs playing wonderfully off of the salmon's healthy blend of omega-3-rich fats. This one will energize all your senses.
Ingredients
Salsa
1

cup

flat-leaf parsley, finely chopped

1/4

cup

fresh mint, finely chopped

1/2

cup

kalamata or green olives, chopped

1/2

cup

fennel, finely chopped

1/4

cup

pomegranate seeds

1/4

cup

toasted walnuts, chopped

2

scallions, minced

1

tablespoon

extra-virgin olive oil

2

teaspoons

freshly squeezed lemon juice, plus more to taste

1/2

teaspoon

freshly ground black pepper

Sea

salt
Salmon
1/2

cup

freshly squeezed orange juice

2

tablespoons

freshly squeezed lime juice

2

tablespoons

freshly squeezed lemon juice

Zest

of

one orange and one lemon

1

tablespoon

extra-virgin olive oil

1/2

teaspoon

fresh ginger, freshly minced

Pinch

cayenne

pepper

4

6-oz. salmon fillets, pinbones removed

Sea

salt

1

teaspoon

Dijon mustard

1

cup

pomegranate olive mint salsa (see recipe above)
Directions
For the pomegranate olive mint salsa:
Combine the parsley, mint, olives, fennel, pomegranate seeds, walnuts, scallions, olive oil, lemon juice, black pepper and a pinch of salt in a bowl and stir gently to mix.
For optimal flavor, cover and let sit at room temperature for 15 minutes before serving. If desired, add additional lemon juice or salt to taste.
Note: Makes about 2 1/2 cups. The salsa can be stored in an airtight container in the refrigerator for up to 4 days.
For the roasted ginger salmon:
In a small bowl or glass measuring cup, whisk together the orange juice, lime juice, lemon juice, orange zest, lemon zest, olive oil, ginger and cayenne.
Place the salmon in a baking dish and season each piece with a pinch of salt. Pour half of the marinade over the salmon and turn to coat well. Cover the baking dish and place in the refrigerator to marinate for 20 minutes.
Preheat the oven to 400°F.
After 20 minutes have passed, remove the salmon from the refrigerator. Uncover the baking dish and add 2 tablespoons of water to it.
Bake for 10 to 15 minutes, depending on the thickness of the fillets, just until tender and opaque and an instant-read thermometer inserted into the center of the fillet registers 120°F.*
While the salmon is cooking, combine the remaining marinade and the mustard in a small saucepan over medium heat and simmer until the liquid is reduced by half. Pour the reduction over the cooked fillets. Spoon 1/4 cup of the salsa on top of each fillet and serve immediately.
Note: The salmon can be stored in an airtight container in the refrigerator for up to 3 days.
*Cook's note: As with the porridge in Goldilocks and the Three Bears, fish has to be just right. Too much time in the oven or on the grill leaves your fish too dry, but too little time will leave you with raw fish. As with many other proteins, fish continues to cook for several minutes after you take it off the heat. This is called carryover cooking. Let an instant-read thermometer be your guide and pull your fish away from the heat at 120°F. By the time you're ready to serve it, your fish will be perfect.
More fresh and healthy salmon recipes on Food Republic: