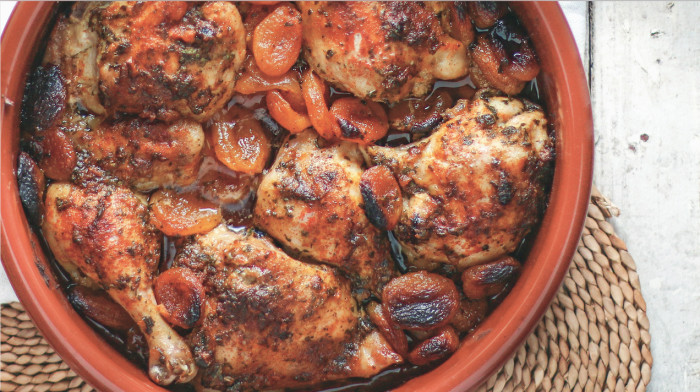 Fresh, inventive Israeli food has never been more popular, thanks to chefs like London's Yotam Ottolenghi and, more recently, Toronto-based Danielle Oron. Her new cookbook, Modern Israeli Cooking, is a collection of vibrant new spins on Mediterranean classics, plus recipes from her Israeli-Moroccan upbringing that you'll make over and over again. Try this simple baked chicken with pungent garlic and sweet dried apricots and leave that prepackaged "herb blend" behind forever. 
Roasted garlic has an intoxicating smell. You can almost taste it in the air. I use roasted garlic to make a paste and smother the chicken in this dish. Letting it marinate overnight allows the flavors to penetrate the chicken, which is incredible, but my favorite part of this dish is the combination of the dried apricots and the garlicky chicken juices. Boy, oh boy.
Ingredients
2

heads of

garlic

1/4

cup

chopped cilantro

1/4

cup

chopped parsley

3 1/2

tablespoons

unsalted butter, room temperature

2

tablespoons

lemon juice

1

teaspoon

salt

1/2

teaspoon

fresh black pepper

1/2

teaspoon

paprika

1/4

teaspoons

cumin

1/2

teaspoon

Ancho Chili Harissa, optional

8

pieces

skin-on, bone-in chicken (use your favorite cuts)

3/4

cup

dried apricots

1

tablespoon

olive oil

Salt and fresh black pepper

paprika, to garnish
Directions
For the chicken
Preheat oven to 375˚F (190˚C). Place the heads of garlic in a baking dish and roast for 40 minutes. Remove from the oven and let cool.

Cut the tops off of the heads of garlic and squeeze out the soft, sticky garlic cloves into a food processor. Add the cilantro, parsley, butter, lemon juice, salt, pepper, paprika, cumin and harissa. Pulse a few times until a thick paste has formed.

Place the chicken in a baking dish and smother with the roasted garlic paste, making sure to push some of the paste under the skin of the chicken. Cover with plastic wrap and place in the fridge to marinate overnight (or a minimum of 6 hours).

Preheat the oven to 400˚F (205˚C). Remove the chicken from the fridge and allow it to rest on the countertop for 15 minutes while the oven preheats. Scatter the apricots around the chicken. Drizzle with the olive oil and season with salt and pepper. Cover the top of the dish with tinfoil.

Roast for 30 minutes. Remove the tinfoil and continue roasting for an additional 15 to 20 minutes. The internal temperature of the chicken should reach 165˚F (75˚C).

Turn the broiler to high. Sprinkle the chicken with a bit of paprika and leave under the broiler to crisp for about 5 minutes or until the skin is golden brown.

Let the chicken rest for at least 5 minutes before serving.