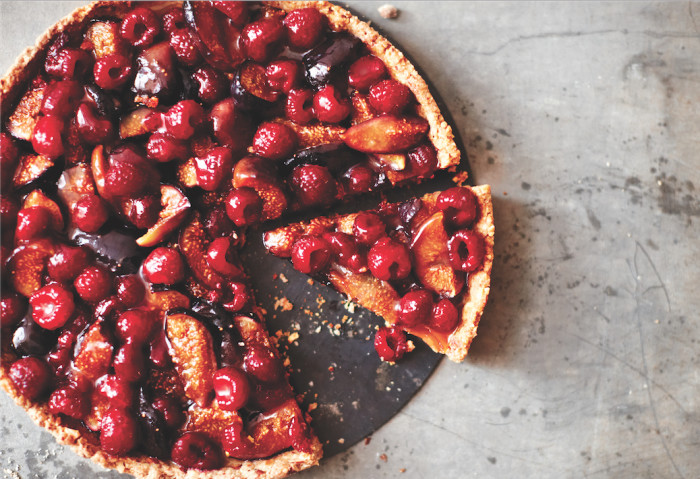 Vegan? Gluten-free? Simply sticking to whole foods at the moment? Crack open chef and author Amy Chaplin's new cookbook and nourish yourself with the very best produce and whole grain recipes we've come across in a long time. 
This is a quick, fuss-free, easily adaptable dessert, perfect to serve at a summer dinner party. The toasted almond and salt-kissed crust, maple roasted figs, and fresh raspberries topped with organic whipped cream is an all-round hit. Most of the ingredients here can be found in a well-stocked pantry, so all you need to do is pick up some fruit or roast what you have on hand, and this tart comes together in a flash. When figs are not available, try making it with roasted pears, or roast summer fruits like nectarines, peaches, or apricots — they all go well with raspberries and taste great with the almond crust.
Reprinted with permission from At Home in the Whole Food Kitchen
Ingredients
Crust
3

tablespoons

extra-virgin olive oil, plus more for oiling the pan

2/3

cup

toasted almonds, divided

1/4

cup

regular rolled oats

1/4

teaspoon

sea salt

2/3

cup

whole spelt flour

3

tablespoons

maple syrup

1

teaspoon

vanilla extract

1/4

teaspoon

almond extract
Filling
1

pound

fresh, ripe figs, stemmed and cut in half

2

teaspoons

extra-virgin olive oil

2

tablespoons

maple syrup, divided

3/4

cup plus 1 tablespoon

apple juice, divided

3/4

teaspoon

agar flakes

1

teaspoon

arrowroot

1/2

teaspoon

vanilla extract

2

cups

fresh raspberries
Materials
Directions
For the crust
Preheat oven to 350ºF. Open the springform pan and place the base of the pan upside down on the counter. Lay a square piece of parchment paper over the base — the parchment should be at least an inch or two larger than the base on all sides. Lightly oil the sides.

Grind ⅓ cup almonds, oats, and salt in a food processor until coarsely ground, about 20 seconds. Transfer to a bowl and stir in spelt flour. Roughly hand-chop remaining almonds, add to bowl, and mix well. Drizzle in olive oil, and mix with a fork or your fingertips until all flour is moistened. Add maple syrup, vanilla, and almond extract; mix until evenly incorporated. Dough should be moist but not sticky.

Wash and dry your hands, then press crust evenly into prepared pan. Press crust only ½ inch up sides, leaving top edge uneven; you may end up having a little dough left over, which you can make into a cookie. Prick bottom of crust several times with a fork, and bake for 18 minutes or until golden brown and fragrant. Remove from oven and set aside to cool.

Now place the sides of the pan on the base and, keeping the paper flat against the base, slightly lift the base to fit in the groove of the pan. Secure sides, flip pan over and fold paper into the center. It's now ready to use. Fitting the base of the pan this way ensures an even edge with crusts and cakes, eliminates the need to oil the base before adding a parchment circle, and also prevents the paper from lifting when serving a slice of tart. If your pan has a "leak-proof" seal you won't be able to fit parchment this way; just lightly oil the base and cut a circle to fit inside the pan.
For the filling
Raise oven temperature to 400ºF. Line a rimmed baking sheet with parchment paper. Add figs and drizzle with olive oil and 1 tablespoon maple syrup; toss gently to coat. Spread figs out evenly over tray and arrange cut-side up; roast for 25 minutes or until they begin to caramelize and soften. Remove from oven and set aside to cool.

Combine ¾ cup apple juice and agar flakes in a small heavy-bottomed pot, and bring to a boil over high heat. Whisk, cover pot, reduce heat to low, and simmer for 5 minutes or until agar has completely dissolved. In a small bowl, dissolve arrowroot in remain­ing tablespoon of apple juice and slowly drizzle into hot agar mixture, whisking constantly until mixture returns to a simmer and has thickened slightly. Remove from heat and whisk in remaining tablespoon of maple syrup and vanilla. Set aside, uncovered, for about 5 minutes or until mixture has thickened a little but not begun to set.

Place roasted figs in a bowl and pour in warm agar mixture. Stir gently with a rubber spatula or with your hands to combine. Add raspberries, and toss gently until evenly distributed. Working quickly, transfer mixture to baked tart shell and carefully spread out filling in an even layer.

Refrigerate for 20 to 30 minutes or until filling is completely set. Serve topped with cream of your choice.