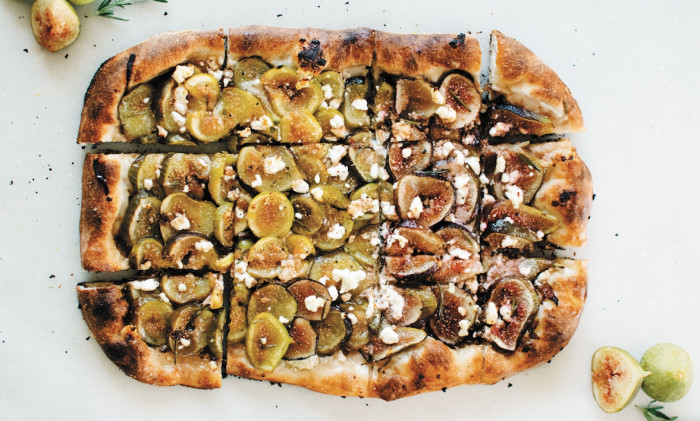 Based on the much-loved blog Kale and Caramel, recipe developer Lily Diamond's new cookbook is a collection of the recipes that made her a favorite among home cooks, DIY fans and plant-eaters everywhere. This roasted fig pizza with chèvre is a sweet and savory dish perfect for any meal of the day.  
For two days, I was obsessed with thoughts of this pizza. It came to me in a shamanic reverie (aka, scrolling through my Facebook feed for recipe ideas), and I knew I had to make it. It was so easy, so possible, and would be so delicious. I started frantically texting people: "Do you want to come over and make this roasted fig, chèvre, and caramelized onion pizza?" The answers were inevitably the same: first the expected "LOL," and then, as the obsession began to infiltrate, "YES. WHEN?"
We set a date. I had everything I needed, and would go to my favorite local bakery for pre- made dough. I picked rosemary on my daily stroll around the neighborhood, and made sure said friends were bringing wine and chocolate. Culinary heaven ensued — well, I thought it was culinary heaven until Janson, my partner in kitchen crime, decided to drizzle truffle oil on it. And then, my friends, this pizza officially arrived. We may or may not have eaten the entire thing in one sitting.
The key is in the alchemy of balsamic caramelized onions and oven-roasted figs commingling with rosemary. It's a combination that perfectly bridges sweet and savory, a solvent for life's complexity.
Ingredients
Pizza Dough (or 16 ounces store-bought pizza dough, at room temperature)
1 1/3

cups

lukewarm water

1 1/2

teaspoons

active dry yeast

2

teaspoons

extra-virgin olive oil, plus more for the bowl

3

cups plus 1 tablespoon

all-purpose flour, plus more as needed

2

teaspoons

kosher or sea salt, plus more for sprinkling
Pizza Toppings
1

large yellow onion, thinly sliced

2

tablespoons

olive oil, plus more for drizzling

2 to 3

tablespoons

balsamic vinegar, plus more for drizzling

1/2

teaspoon

sea salt, plus more to taste

1/4

teaspoon

freshly cracked black pepper, plus more to taste

cornmeal, for the pizza stone or baking sheet

4 to 5

ounces

chèvre (goat cheese)

1

tablespoon

chopped fresh rosemary leaves

8 to 10

ripe Mission or Turkish figs, sliced 1/4-inch-thick

truffle oil, for drizzling (optional)
Directions
For the dough
Start the pizza dough 3 to 4 hours ahead. In a small bowl, combine the water, yeast, and oil. In a large bowl, whisk together the flour and salt. Add the wet ingredients to the dry and knead the dough until the mixture comes together into a ball, smooth but a bit tacky to the touch. Add more flour if the dough is too wet. Transfer the dough to a floured surface and knead for 3 minutes to create a smooth ball. Cover with a dish towel and let the dough rest for 15 minutes, then knead for another 3 minutes.

Transfer the dough to a well-oiled bowl and cover with a damp dish towel. Place in a warm location, or if your kitchen is cold, inside your oven. Let rise for 3 to 4 hours. Once the dough is doubled in size, roll it into a ball. (Cut the dough in half and form into 2 balls if making 2 pizzas.) Will keep in the fridge for 2 weeks, or in the freezer for up to 3 weeks. Bring to room temperature before using.
For the pizza
Preheat the oven to 525°F. In a large frying pan on medium heat, sauté the onion in the olive oil and vinegar, sprinkling with the salt and pepper. Continue stirring until the onion is soft, transparent, and browning, 20 to 25 minutes. Taste and add more salt and vinegar as necessary. The onion should be tangy and umami-filled.

Sprinkle a large pizza stone or baking sheet with cornmeal and stretch 1 large ball or 2 smaller balls of dough by letting them hang from both hands until they reach the desired shape and evenness. The edges can be slightly thicker than the middle, and the whole thing should be quite thin, as it will rise. It's a pretty forgiving piece of dough, so don't worry too much. If making 2 pizzas, divide all the ingredients in half.

Drizzle the dough with a generous hand of olive oil and a sprinkle of salt, then evenly spread out the caramelized onion. Crumble most of the cheese and sprinkle most of the rosemary on top. Arrange the figs in a single layer, top with the rest of the cheese and rosemary, and drizzle vinegar over it all.

Bake for 10 to 15 minutes, checking occasionally. Remove from the oven when the edges are golden brown and crisp to your liking. Transfer to a wooden cutting board, add a drizzle of truffle oil if you choose, and cut for serving.