Roasted Carrot, Orange And Avocado Salad Recipe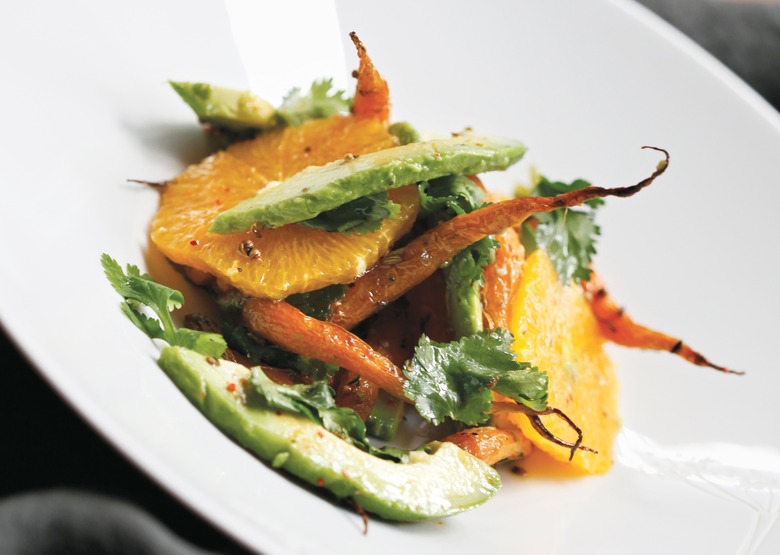 Photo: Djamel Dine Zitout
We may receive a commission on purchases made from links.
Chef Greg Marchand's fresh innovative French fare has made him a household name in the Paris dining scene. His first cookbook, Frenchie, on shelves April 8th, is packed with seasonal dishes from his bistro and the stories behind them, as well as stunning photos that will earn it a place in your kitchen library for years to come. Chef Marchand's simple roasted carrot salad combines bright colors with satisfying flavors and textures for a hearty vegetarian lunch or side dish.
This is a dish I could eat every day. Simple, quick, delicious, it combines the crunchiness and sweetness of carrots, the zing of orange and the meaty texture of avocado.
Related: A Frenchie In Paris
Roasted Carrot, Orange And Avocado Salad Recipe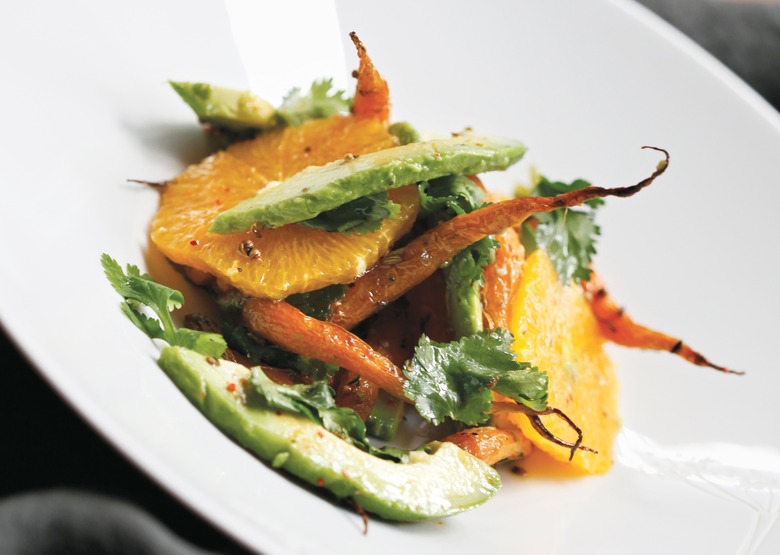 Ingredients
2 bunches (about 1 pound) baby carrots
1/4 teaspoon coriander seeds
1/4 teaspoon fennel seeds
1 sprig thyme
1 clove garlic
olive oil
salt
2 -3 navel oranges
2 avocados
3 sprigs cilantro
juice of 1 lime
olive oil
fleur de sel
Piment d'Espelette
Directions
Preheat the oven to 350°F.
Trim the carrots and put them in a bowl.
Toast the coriander and fennel seeds in a small dry skillet over medium heat until fragrant, about 3 minutes; take care not to burn them.
Let cool, then coarsely crush the seeds with a mortar and pestle or under a heavy skillet.
Add the toasted spices to the carrots, along with the thyme, garlic, a drizzle of olive oil, and a pinch of salt, and toss well with your hands.
Transfer the carrots to a baking dish and roast for 20 to 25 minutes, until tender and lightly browned. Set aside.
With a sharp knife, peel the oranges down to the flesh, removing all the bitter white pith, then slice into 1/4-inch-thick rounds. You need 16 slices.
Cut the avocados in half, remove the pits, peel, and cut lengthwise into thick slices.
Remove the cilantro leaves from the stems.
Combine the carrots, oranges, and avocados in a medium bowl.
Sprinkle with the cilantro, lime juice, olive oil, fleur de sel, and a pinch of piment d'Espelette and toss gently.
Arrange on salad plates and serve.
Apple And Celery Salad With Toasted Hazelnuts Recipe
Soba, Cauliflower And Blood Orange Salad Recipe
Pickled Feta With Cerignola Olives And Strawberries Recipe