Roasted Broccoli With Watercress, Lemon And Pecorino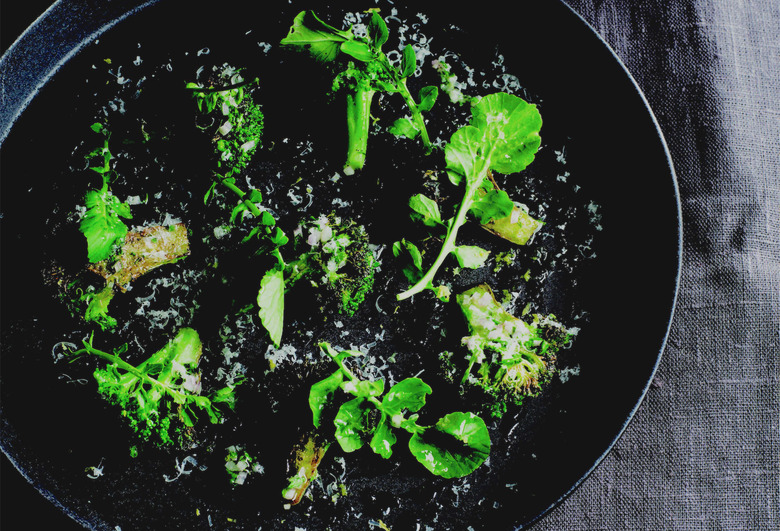 We may receive a commission on purchases made from links.
Chefs Joseph Ogrodnek and Walker Stern create big flavors from the tiny open kitchen of their excellent Brooklyn restaurant Battersby. In their new cookbook, they show us how to make great food in our own humble abodes, like this bright and tasty broccoli dish.
Broccoli seems an unlikely candidate for charring, but the intense contrast creates a compelling effect that gets along as a side dish to any number of fish or meats. The acidic lemon and peppery watercress round out and pull the flavors together. Don't cut the broccoli florets to uniform size; the smallest ones will darken, adding variety and punctuation to the plate. This is one case where zesting your lemon as you work makes a big difference, because you get the oil along with the zest, perfuming the finished dish. Serve this with just about anything, from white-fleshed fish to roasted chicken or duck to beef.
Roasted Broccoli With Watercress, Lemon And Pecorino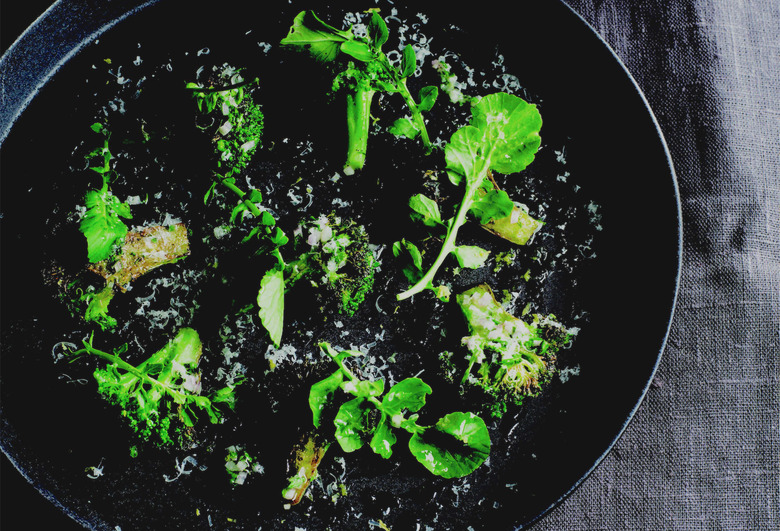 Ingredients
3 heads of broccoli (about 8 ounces each)
kosher salt
About 3/4 cup plus 2 tablespoons extra-virgin olive oil
1/4 cup fresh lemon juice
2 teaspoons minced shallot
1 tablespoon fine herbs or thinly sliced fresh flat-leaf parsley leaves
Kosher salt and freshly ground black pepper
4 cups loosely packed watercress leaves
1/2 cup finely grated aged pecorino cheese
Directions
Cut the stems off the florets, and discard the stems or save them for another use. You should have about 6 cups of florets. Cut especially large ones in half.
Bring a large pot of salted water to a boil. Fill a large bowl halfway with ice and water and set aside. Add the broccoli to the boiling water and cook until al dente, 1 to 2 minutes. Drain in a colander and transfer to the ice water to stop the cooking and preserve the color. Drain again, dry on paper towels, and use right away or refrigerate in an airtight container for up to 8 hours.
Select a sauté pan wide and deep enough to accommodate all the broccoli in an even layer (or cook it in two batches or in two pans). Heat ½ cup of the oil in the pan over high heat until almost smoking. Turn off the heat to avoid splattering or flare-ups and add the broccoli carefully. (The broccoli has a tendency to soak up oil, so add more if necessary.) Cook, turning with a spoon or fork, to brown the broccoli all over, then transfer to a heatproof bowl. Add the remaining ¼ cup plus 2 tablespoons olive oil, the lemon juice, shallot, and herbs. Season with salt and pepper and toss.
Transfer the broccoli to a serving platter. Top with the watercress and a scattering of cheese. Finely grate about ¼ teaspoon of lemon zest over the dish. Serve family-style from the center of the table.