Roasted Beet Sandwiches With Chive Ricotta Cheese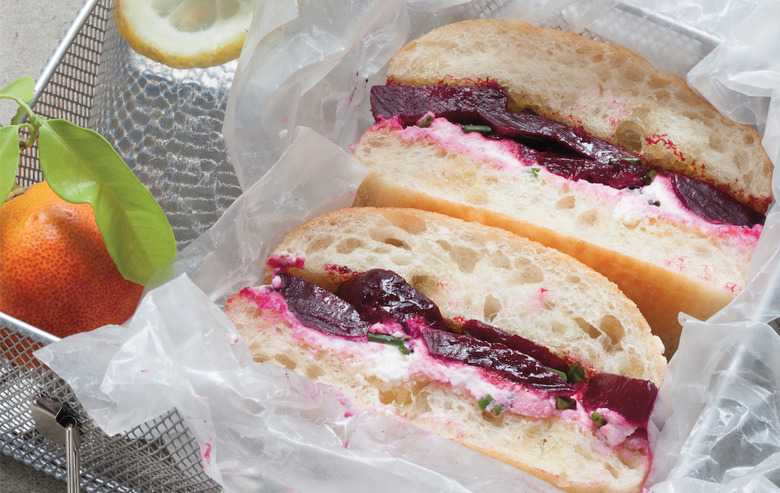 We may receive a commission on purchases made from links.
Nothing attracts lunch envy like a glass jar of something colorful and healthy or a beautifully balanced salad. Take your lovely lunch along wherever you go with The Portable Feast, the newest recipe collection from food writer and recipe developer Jeanne Kelley. 
When first assembled, these sandwiches are big, magenta-and-white tasty tumbles. Overnight, they set up nicely and the creamy ricotta gets a pretty pink hue from the beets. Chives are delicate and enhance the ricotta, but green onions would make a tasty, slightly more robust substitution.
Roasted Beet Sandwiches With Chive Ricotta Cheese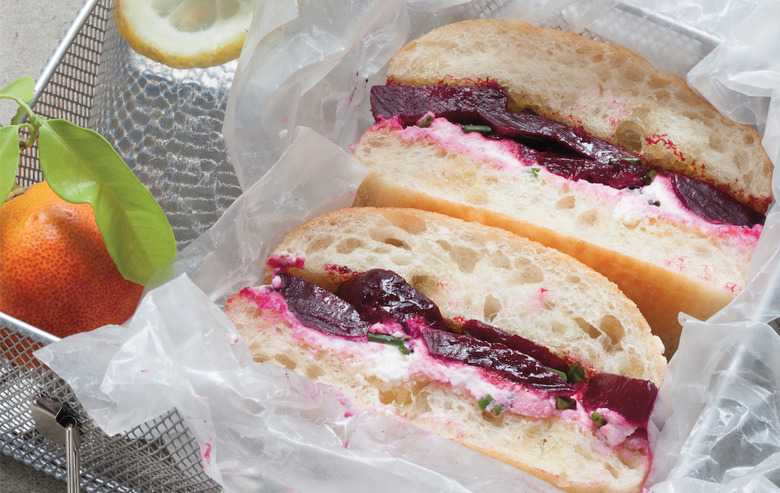 Ingredients
1 cup (about 3 medium) beets
3 tablespoons snipped chives
2 tablespoons balsamic vinegar
1 tablespoon extra-virgin olive oil
1/2 cup whole-milk ricotta cheese
2 (5-inch) sections soft-crusted ciabatta bread
1 clove garlic
Directions
Combine the beets, half of the chives, balsamic vinegar, and olive oil in a medium bowl. Season the beet mixture with salt and generously with pepper.
Stir together the ricotta and remaining chives to blend in a small bowl. Season the ricotta mixture with salt and pepper. (Beet and ricotta mixtures can be prepared up to 2 days ahead. Cover and refrigerate separately.)
Split the ciabatta sections in half lengthwise. Lightly brush the insides with olive oil and toast just slightly under a broiler or in a toaster oven. Rub the cut sides of the bread with the garlic clove. Spread the ricotta mixture over the bottom pieces of the bread, dividing it evenly. Spoon the beet mixture over the ricotta, dividing it evenly. Place the top halves of the ciabatta atop the beets and press gently to compress. Wrap sandwiches tightly in foil. (Sandwiches can be made up to 2 days ahead; refrigerate.)