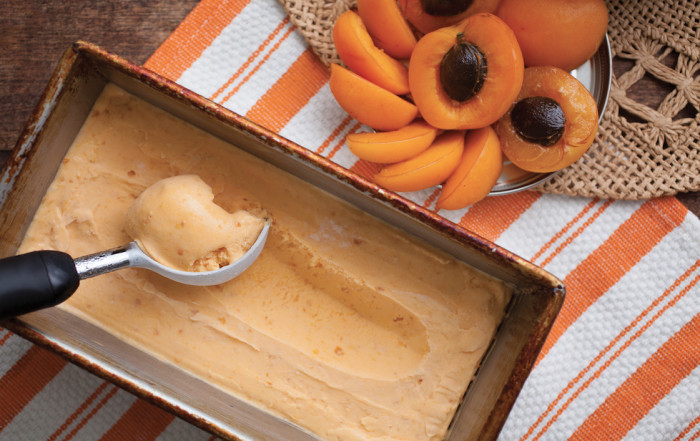 Why should salads and veggie dishes get all the garden glory? California pastry chef Lei Shishak uses seasonal fruit in this magnificent book of farm-to-table desserts. From cakes and pastries to ice cream, popsicles and puddings, there's a recipe for every fruit craving under the sun. This roasted apricot sherbet is the essence of peak summer stone fruit.
Roasting is an easy way to bring out the wonderful flavor of apricot that we all know exists but is sometimes hard to detect when apricots are eaten fresh. This smooth sherbet is highly addictive and soars with the lively flavor of apricot and the creaminess of gelato.
Ingredients
1

tablespoon

unsalted butter, soft

1

pound

ripe apricots, halved and pitted

1

tablespoon plus 1/2 cup

sugar

1/4

cup

water

1/4

teaspoon

salt

1

cup

heavy cream
Directions
For the sherbet
Preheat oven to 400°F. Coat a 9x13-inch baking dish with the butter. Place the apricots in the dish cut side up. Sprinkle the fruit with 1 tablespoon of sugar. Bake for 20 to 25 minutes until apricots are fragrant and tender. Set aside.

Bring ½ cup sugar and ¼ cup water to a boil in a small pot over high heat. Pour into a blender and top with the roasted apricots and salt. Purée until smooth. Transfer to a clean container and let chill overnight in the refrigerator.

The next day, stir in the cream and churn in an ice cream maker. Serve immediately or keep in freezer if you prefer a firmer sherbet.