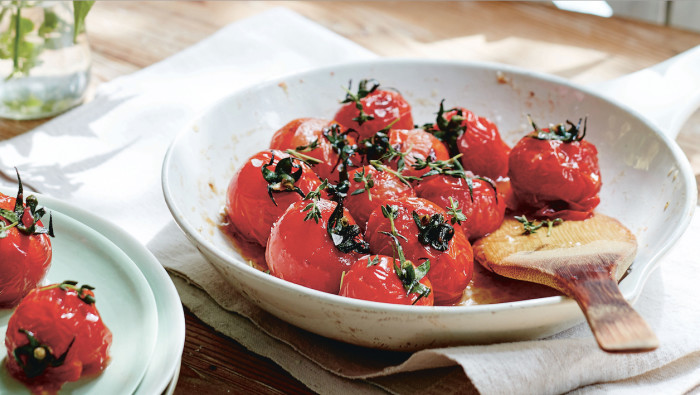 If your home-cooked meals aren't complete without a squeeze of citrus or dash of zest, there's a new cookbook by British recipe developer and food writer Catherine Phipps. Bring a little zeal to every meal of the day with Citrus. These roast tomatoes with lemon thyme are a succulent, sweet and tangy way to celebrate summer produce. 
I can't remember what led me to this idea, but I'm so glad I tried it. I had always been a bit either/or with tomatoes and lemons but this is a revelation – the lemon sweetens and caramelizes in a very different way from the tomatoes and they complement one another perfectly. These are wonderful with grilled fish or steak, or just folded through some pasta.
Ingredients
14

ounces

small to medium vine tomatoes

1

tablespoon

olive oil

1

large lemon

basil, shredded (optional)

capers, to taste (optional)

thyme sprigs
Directions
For the tomatoes
Take 14 ounces of small to medium (i.e. slightly larger than cherry) vine tomatoes. Separate them from the vine but leave the core leaves.

Heat a heavy-based frying pan to as hot as you can get it. Add 1 tablespoon olive oil and the tomatoes. Cook, shaking regularly, until the tomatoes are threatening – but not quite ready – to burst out of their skins. This won't take long.

Cut the peel off a large lemon and dice the flesh, taking out any pips as you go. Add this into the pan – it should sizzle and start caramelizing almost immediately. Shake a couple of times and remove. Serve sprinkled with salt and lemon thyme, and perhaps some shredded basil if you like. Capers are also a good addition here; you can add them just before the lemon so they can sizzle for a moment on their own first.