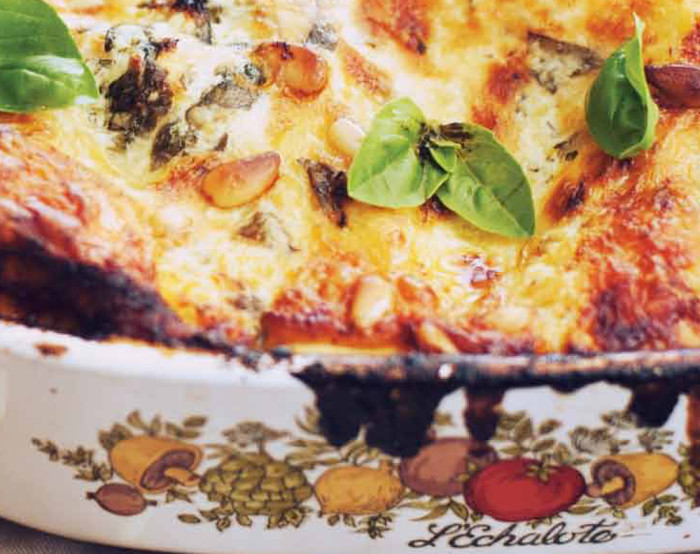 We believe that lasagna is so much more than just noodles, sauce and cheese. It's a technique, a way of life and a devotion to the transformative properties of comfort food. When you combine the earthy, mellow flavor of eggplant with universally pleasing freshly roasted chicken in this way, the result is a dish that's perfect to feed a crowd or for freezing in batches to treat your future self to a great dinner.
This recipe from Aussie Renaissance man/hunter and gatherer Rohan Anderson recommends using a rooster, since they're relatively unpopular/not necessary in the backyard chicken movement. But feel free to use a hen.
Ingredients
1

whole

chicken, quartered

1

box

lasagna pasta

2

carrots, finely chopped

2

celery stalks, finely chopped

3

eggplants

2

onions, finely chopped

1

large handful

basil, chopped

2

cups

cheddar cheese, grated

2

cups

Parmesan cheese, grated

20

ounces

ricotta cheese

24

ounces

passata (or a tin of chopped tomatoes)

1

cup

dry white wine

pine nuts

olive oil

Salt and pepper
Directions
Slice the eggplant lengthwise and grill on a griddle pan with a generous splash of olive oil for each slice. When done set aside to cool.
In a large pot, heat some olive oil and brown the chicken pieces for a few minutes on each side, but don't cook them through. Once done, set aside.
In the same pot, heat some olive oil and add the onions, carrots and celery. Cook for a good while until they are softened and have changed color. Add the wine and cook out.
When the wine is almost all cooked out, return the chicken and add the passata and garlic.
Cook until the meat falls from the bone. Depending on the age and type of bird this will take from 40-60 minutes.
Remove the pieces of chicken and scrape the meat off the bone. Return the meat to the pot and discard the bones. Add the basil.
Allow the chicken mix to cool to room temperature. At the same time, cook the lasagna pasta al dente.
Preheat the oven to 400 degrees. In a large bowl stir the ricotta, cheddar and Parmesan until completely mixed.
Using a large baking dish, ladle out a layer of the chicken ragu, then a layer of grilled eggplant, then lasagna, then cheese. Repeat this process for at least three levels.
On top of the last layer, grate over plenty of cheddar and Parmesan cheese and sprinkle over some pine nuts.
Bake covered with a lid or aluminum foil for 30 minutes then remove the cover and bake for another 20 minutes or until golden brown up top.
More lasagna recipes on Food Republic: