Roast Beef With Porcini Coffee Sauce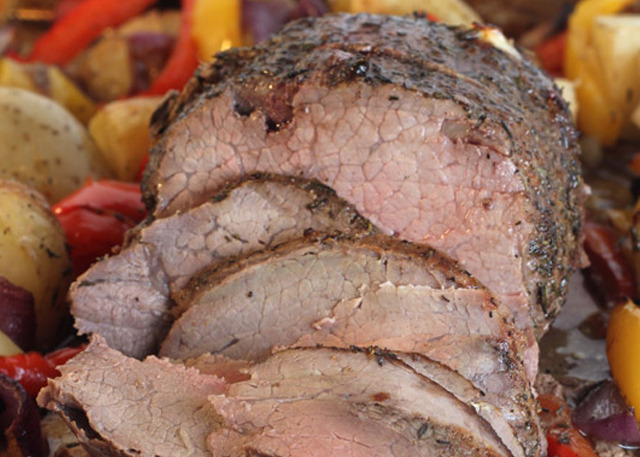 Photo: Back to the Cutting Board on Flickr
There is really no foodstuff more satisfying than roast beef, slowly cooked on the barbecue, dripping with all those wonderful meat juices. So good. Now add a jolt of espresso to the mix. What? Trust us here. The big-brained Australian coffee company Toby's Estate Coffee sent us this Roast Beef with Porcini Coffee Sauce recipe that combines espresso, honey, truffle salt and porcini mushrooms to make a roast beef that packs a whole lot of flavor. And if you want to take your roast beef slices to the next step, try turning them into these mini sliders.
Roast Beef With Porcini Coffee Sauce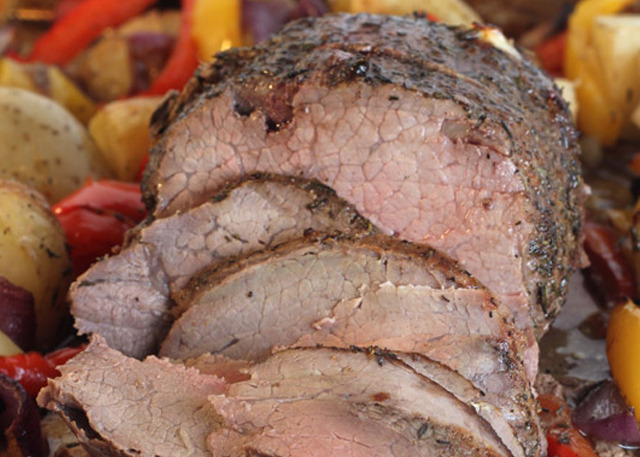 Ingredients
1/4 cup balsamic
2 tablespoons fresh thyme leaves
1 tablespoon fresh rosemary leaves
1/3 cup olive oil
1 4 1/2 pound beef rump roast
4 cloves garlic
2 pounds Sebago potatoes
3 1/2-pound packets cherry truss tomatoes
splash of red wine or port
handful of porcini mushrooms
1 shot of espresso
1 tablespoon truffle salt
2 tablespoons honey
Directions
Combine vinegar, thyme, rosemary and 2 tablespoons oil in a jug. Place beef in a glass or ceramic baking dish.
Using a small sharp knife, cut twelve 1 x 1 1/2-inch deep slits over beef. Insert garlic slices in slits. Pour over vinegar mixture. Turn to coat. Cover with plastic wrap. Refrigerater for 3 to 4 hours, if time permits.
Preheat barbecue on high with hood closed. Lightly grease a disposable foil baking tray. Place potatoes in a large bowl. Add remaining oil. Season with salt and pepper. Toss to coat. Place beef and potatoes in prepared tray.
Reduce temperature to medium. Roast beef and potatoes, with hood down, using indirect heat (see note), for 1 hour 15  minutes to 1 hour 20 minutes for medium or until cooked to your liking. Remove from barbecue. Cover. Rest beef for 20 minutes.
Place tomato in a disposable foil baking tray. Roast (with hood down) for 15 to 20 minutes or until tomatoes start to collapse.
Slice beef. Serve with potatoes, tomatoes and truffle porcini coffee sauce.
Use the roast beef pan juices as a base to build the sauce. Do this by adding a generous splash of red wine or port to the pan, and loosen the pan bits with a spoon.
Add a handful of dried porcini mushrooms and enough water for them to cook.
Over a low heat, reduce the sauce to a thick consistency.
Add the shot of espresso, truffle salt and honey.
To use indirect heat, turn burners on one half of the barbecue to required temperature. Place baking tray on unheated side of barbecue.
Remove beef from fridge and stand at room temperature for about 20 minutes before cooking. This will allow meat to cook more evenly.