Switch Up Breakfast With These Ringlet Bagels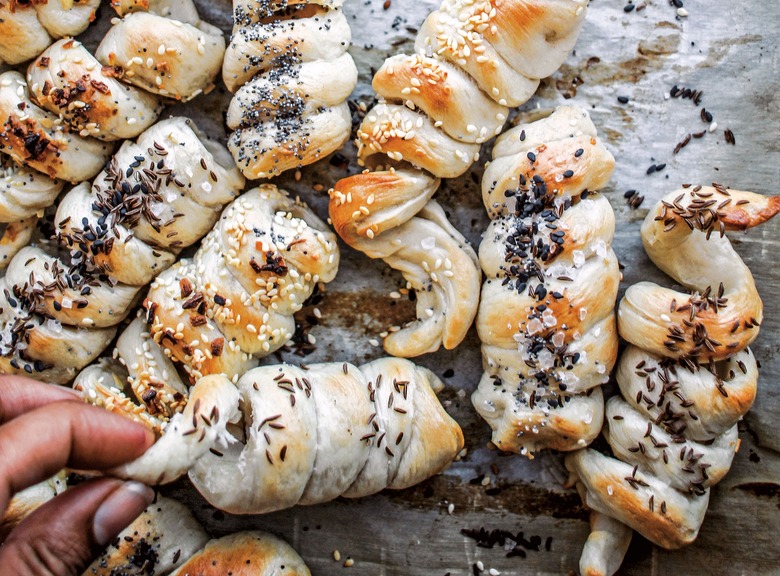 We may receive a commission on purchases made from links.
Award-winning food photographer, stylist and recipe developer Jerrelle Guy is founder of the popular food blog Chocolate for Basil. Her new collection of recipes, Black Girl Baking, is a wonderful, heartfelt journey through her relationship with food and cooking, and a worthy addition to your culinary library. These ringlet bagels speak for themselves. 
The process of coiling this dough and wrapping it around a thin metal rod helps create the tightest curls. I tug them and watch them spring back into place — like the curls I used to wear as a little girl — but they also make breakfast more portable. I just pipe whipped cream cheese into the center and go about my day.
Note: If you don't have mini cannoli rods, you can use the end of a wooden spoon.
Storing: These bagels should be kept in an airtight bag right after baking. Their thin body means they'll get stale too quickly if they're left on the countertop. They can be kept in the freezer, too.
Switch Up Breakfast With These Ringlet Bagels
Award-winning food photographer, stylist and recipe developer Jerrelle Guy baked up these adorable ringlet bagels just for you.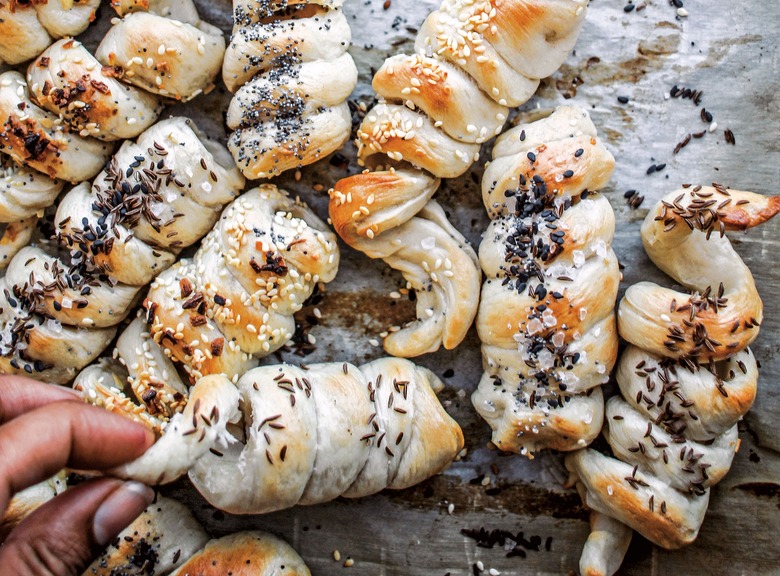 Ingredients
1 1/4 cups warm water
2 tablespoons packed brown sugar
2 1/2 teaspoons active dry yeast
3 cups plus 2 tablespoons flour
Black or white sesame seeds, caraway seeds, onion flakes, dried garlic flakes, flaky sea salt, poppy seeds or 1 cup granulate sugar plus 1 tablespoon ground cinnamon
Your favorite bagel spread
Directions
To make the dough, add the warm water to a bowl along with the brown sugar. Sprinkle the yeast over the top of the water, and let it sit and bloom without mixing until a thick cap of froth is formed, 5 to 10 minutes. In a stand mixer with a dough hook attachment, add the flour and salt, and mix. Dump in the bloomed yeast and knead for 5 to 6 minutes, adding more warm water or flour if needed to pull it together. The dough should be very dense and heavy with no visible traces of flour. Cover with plastic wrap and a damp cloth and let rise in a warm place for 1 hour, or until doubled in size.
Have a couple baking sheets lined with parchment nearby. Punch the risen dough down with your fist to allow the extra air to escape, and then separate the dough into 2-inch (5-cm) pieces. Roll the dough between your palms until a firm, smooth ball is formed, then roll the ball into a short coil. On a clean work surface, roll the small coil into a 10-inch coil. It's best if you don't add flour in this step because a damper dough will stick to the work surface better, making it easier to roll. Transfer the coils of dough to the lined baking sheets, cover with plastic wrap and let them rise and rest for another 30 minutes.
Preheat the oven to 425°F and have at least 3 lightly oiled mini cannoli rods and a lined and lightly oiled baking sheet nearby.
Bring a large pot of water to a boil and then reduce the heat to a simmer. Remove the plastic wrap from the dough, and begin wrapping them around metal cannoli rods, pinching the edges so they don't unravel in the water. You can do this in batches, being sure to cover up the dough not being used so it doesn't develop a hard crust.
Drop the bagels into the hot water, and as soon as they float to the top, about 1 minute, scoop them out using a spider or a slotted spoon. Place on the baking sheet, and while they're still wet, sprinkle them with the toppings so they stick. Once all the twirls are boiled and seasoned, bake in the oven for 10 minutes, or until golden brown. Serve warm with your bagel spread either as a dip on the side or piped into the center.