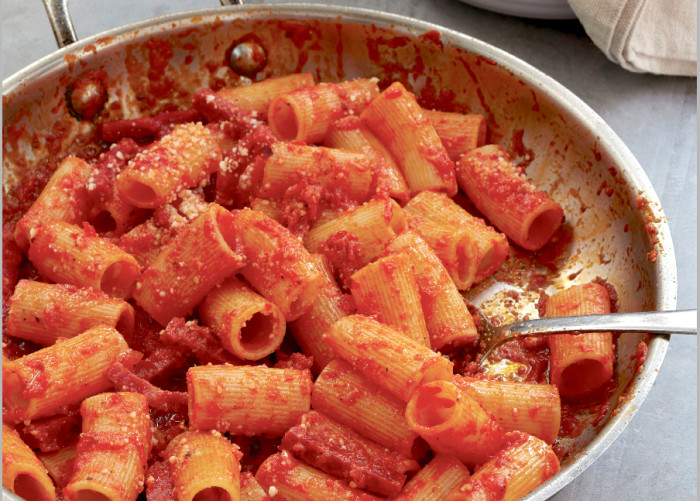 We're so happy Brooklyn cornerstone Franny's condensed their spectacular repertoire into one of the best cookbooks of the summer (along with these 6 must-reads). Prepare for homestyle Italian food of the finest quality, each recipe with its own quirky twist. This rigatoni with fresh tomato sauce and spicy salami is destined to become one of our go-to easy pasta dishes.
An alternative to a traditional pasta amatriciana (spicy tomato sauce made with cured pork guanciale), this soul-satisfying dish was born thanks to a test batch of salami that we made for Bklyn Larder. Somehow we'd gotten the chili proportions off and while it wasn't spicy enough to sell as sopressata, it was too spicy to sell as regular salami. So Andrew sliced the salami up, crisped it in a pan, and added our house tomato sauce and plenty of olive oil and cheese. It's a simple dish with lusty, soul-satisfying flavors, bolstered with lots of chili.
You'll need our recipe for basic tomato sauce. The rest is up to you!
Reprinted with permission from Franny's: Simple Seasonal Italian
Ingredients
8

ounces

spicy sopressata, casings removed

2

tablespoons

extra virgin olive oil, plus more for drizzling

1/2

teaspoon

chili flakes

2

cups

basic tomato sauce

1

pound

rigatoni

1/4

cup

finely grated Pecorino Romano, plus more for serving
Directions
Cut the sopressata into batons about 2 inches long and 1/4-inch thick.
In a very large skillet (or a Dutch oven), warm the olive oil over medium-high heat. Add the sopressata and cook, stirring occasionally, until it has crisped and rendered some of its fat. Add the chili flakes and cook for 30 seconds, then add the tomato sauce and cook over high heat until most of the liquid has evaporated, about 8 minutes. Remove from the heat.
In a large pot of well-salted boiling water, cook the pasta according to the package instructions until 2 minutes shy of al dente; drain.
Toss the rigatoni into the skillet with the sopressata and tomato mixture and cook over medium heat, stirring occasionally, until the pasta is al dente and the sauce has reduced and clings to the pasta, 2 to 3 minutes. Add the Pecorino Romano, then add a few tablespoons of water if the sauce seems dry.
Divide the pasta among four individual serving plates or bowls and finish each with a sprinkling of Pecorino and a drizzle of olive oil.
More Italian pasta dishes on Food Republic: