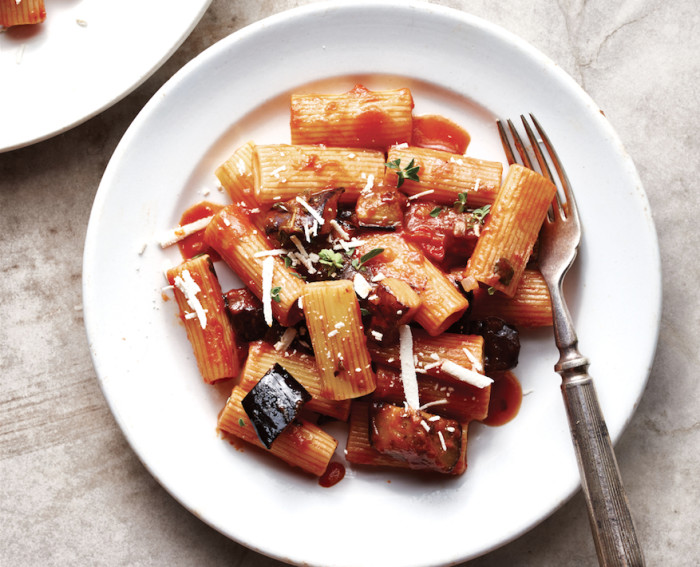 Everyone needs a few go-to pasta recipes for an quick weeknight dinner or simple supper. A "back pocket pasta," if you will. Food writer and Instagrammer Colu Henry has a new cookbook out packed with simple, inventive and classic pasta dishes. Rigatoni alla Norma never goes out of style.
For this dish, you crisp slick, deeply hued eggplants in hot oil and toss them with fresh tomato sauce seasoned with earthy oregano and hot pepper. With cooler nights and shorter days, making this pasta is a nice way to transition from summer to fall. I do not salt my eggplant first. This not only saves you time, but they get crispier this way, I promise.
Cook's Note: When cooking the eggplant, try to not disturb it too much so it evenly browns, which is key for the texture of this dish.
Ingredients
5

tablespoons

olive oil, plus more as needed

1

medium eggplant (about 1 1/2 pounds), unpeeled, cut into 1-inch dice

1

teaspoon

flaky salt, such as Maldon or Jacobsen

kosher salt

3/4

pound

rigatoni

1

large shallot, finely chopped

1

tablespoon

chopped fresh oregano, plus more for garnish

1

thinly sliced fresh red chili pepper, such as cayenne

1

28-ounce can

diced San Marzano tomatoes

freshly ground black pepper

3/4

cup

grated ricotta salata

1/4

cup

torn basil leaves
Directions
For the rigatoni
Bring a large pot of water to a boil.

While the water comes to a boil, heat 3 tablespoons of the oil in a 12-inch skillet over medium-high heat. Working in batches so as not to crowd the pan, add the eggplant and fry until golden brown, adding more oil if the eggplant looks like it's drying out. Eggplants tend to absorb a lot of moisture. Remove the eggplant, sprinkle with the flaky salt, and set aside.

Add 2 tablespoons of the kosher salt to the pot of boiling water and bring the water back to a rolling boil. Add the pasta and cook until al dente according to package directions.

While the pasta cooks, prepare the sauce: Wipe out the pan, then heat the remaining 2 tablespoons of olive oil in the skillet over medium heat. Add the shallot and cook until softened, 3 minutes. Add the oregano and chile pepper and cook 2 minutes more. Add the tomatoes and bring to a simmer. Season with kosher salt and black pepper.

Two minutes before the pasta is done cooking, add the eggplant back to the skillet and stir to coat. Add the pasta directly to the pan and toss together.

Plate the pasta in bowls and top with the ricotta salata, basil, and extra oregano.