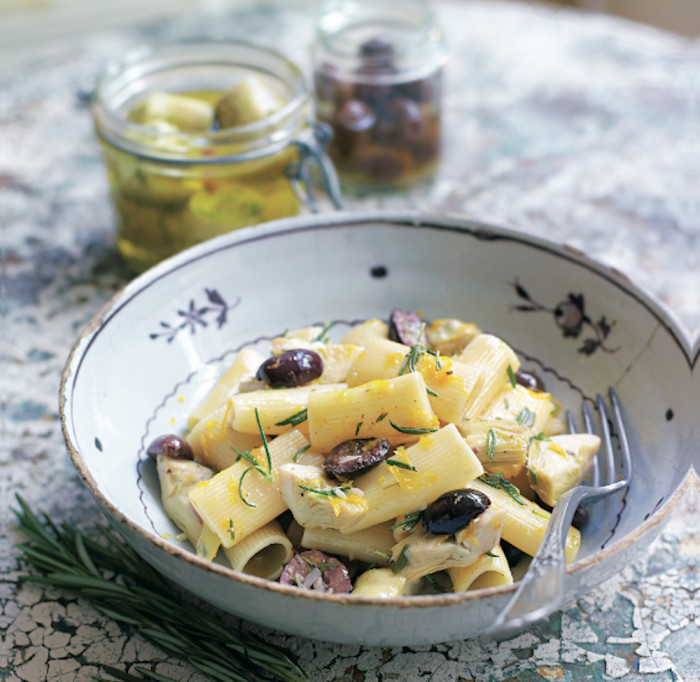 I have always found artichokes a little bit like Marmite — you love them or you hate them! In my case, I absolutely adore them. If you have never tried them, please have a go at this rigatoni al Carciofe recipe — you won't be disappointed. Never ever buy artichokes that are preserved in brine because they aren't worth eating.
Ingredients
2

tablespoons

salted butter

6

tablespoons

olive oil

2

cloves

garlic, peeled and finely chopped

2

tablespoons

fresh rosemary, finely chopped

1/2

cup

Kalamata olives, pitted, drained and halved

6

artichoke hearts in oil, drained and quartered

1/3

cup plus 1 tablespoon

dry white wine

finely grated zest of 1/2

Orange

7

cups (18 ounces)

rigatoni

Salt and pepper, to taste
Directions
In a large skillet or wok, melt the butter with the oil.
Once hot, add the garlic, rosemary, olives, and artichokes and sauté over medium heat for 3 minutes, stirring occasionally with a wooden spoon.
Pour in the wine and cook for an additional 2 minutes to allow the alcohol to evaporate.
Add the orange zest, season with salt and pepper, and mix everything together. Set aside.
Meanwhile, cook the pasta in a large pot of boiling salted water until al dente. Drain and add to the pan with the artichoke mixture.
Return the pan to high heat and mix everything together for 30 seconds to allow the sauce to coat the pasta evenly and serve immediately.