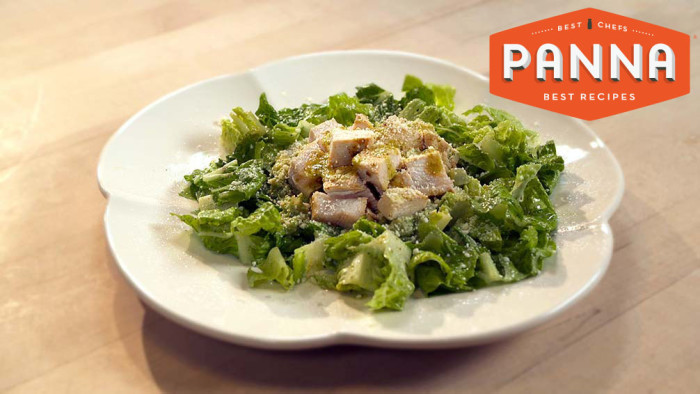 We've recently partnered with the top-rated cooking app Panna to feature some of the awesomely detailed cooking videos from well-known chefs . In the orginal, high-definition videos, these chefs cook dishes in their own home kitchens, explaining how we can execute the recipes ourselves. Check out the video and recipe below, plus more information on Panna, which you can download here.
Rick Bayless' Mexican Chicken Salad with Guacamole and Fresh Romaine was featured in Panna's inaugural issue and has remained our most popular recipe to date. Our customers love it for its vibrant, clever spin on the classic grilled chicken Caesar salad. Bayless guides you through grilling techniques, the right way to pit and mash an avocado, and finishing a salad that's perfect for a weeknight supper.
Ingredients
1/2

cup

vegetable or olive oil, plus a little more for the onion

4

cloves

garlic, peeled and halved

fresh hot green chiles to taste (2 serranos or 1 large jalapeño), stemmed and quartered

1/2

cup

fresh lime juice

3/4

cup

cilantro, roughly chopped

freshly ground black pepper

salt

4

medium sized

chicken breast halves, boneless and skinless

1

medium

white onion, cut into 1/2-inch slices

2

ripe avocados

2

romaine hearts, sliced crosswise at 1/2-inch thick

1/3

cup

grated Mexican queso añejo or other garnishing cheese like Romano or Parmesan
Directions
Heat the oil in a small skillet over medium heat. Add the garlic and chiles, and cook until the garlic is soft and lightly browned, 2 to 3 minutes. Cool.
In a blender, purée the lime juice, cilantro, and 1 teaspoon salt and 1/2 teaspoon black pepper, and the garlic and chile oil. Marinate the chicken with 1/3 of the mixture for up to 1 hour.
Heat a grill pan or gas grill over medium to medium-high (or start a charcoal fire and let it burn until the coals are medium hot and covered with white ash). Lightly brush the onion slices with oil and season with salt. Grill the onion and the chicken until the chicken is cooked through and the onion is well-browned, 5 to 6 minutes per side.
Chop the grilled onion into small pieces and put it into a bowl. Pit and peel the avocados, scooping the flesh in with the onion. Add another third of the garlic marinade and coarsely mash everything together with a potato masher, large fork or the back of a spoon. Taste and season with salt, usually about 1/2 teaspoon.
Put sliced romaine into a large bowl, dress with the remaining third of the marinade and toss to combine.
To serve, divide between four dinner plates. Put a portion of the guacamole into the center of each plate. Cut each breast into cubes and arrange over the guacamole. Sprinkle with queso añejo (or its substitute) and drizzle with more dressing.
MORE ON PANNA: Panna is the first-ever video cooking magazine for the iPad and iPhone. Launched in late 2012, Panna combines original, high-definition video content of master chefs (Rick Bayless, Nancy Silverton, Jonathan Waxman, Seamus Mullen, Sean Brock, the Canal House, Anita Lo, Michael Tusk to name a few) making their favorite dishes in their home kitchens. Panna launched last year to great success, with over half a million downloads and counting, and was recognized as one of the Best Apps of 2012 by Apple. Download it now.
Try out these Mexican recipes on Food Republic: