Ribeye Steaks With Pistachio Butter And Asparagus Recipe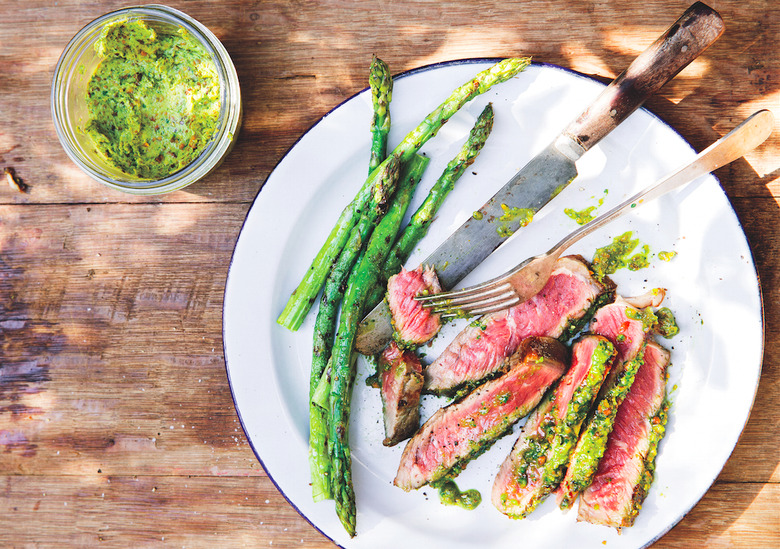 Photo: Sunset Magazine
We may receive a commission on purchases made from links.
If there's one magazine that publishes great cookbooks, it's California-based Sunset. Their simple, fresh and flavorful recipes come from all over the western United States, but will find their way into your repertoire no matter where you are. Need a go-to steak recipe that's fancy-looking without being all fancy about it? Splurge on a flavorful ribeye topped with creamy pistachio butter.
Flavorful and generously marbled, rib-eye makes a great splurge for a special meal, particularly when topped with a distinctively flavored butter. If you can't find unsalted pistachios, use unsalted butter to balance the salty nuts. The amount of pistachio butter is generous; if you like, turn the asparagus in some right after it comes off the grill and top the steaks with the rest.
Ribeye Steaks With Pistachio Butter And Asparagus Recipe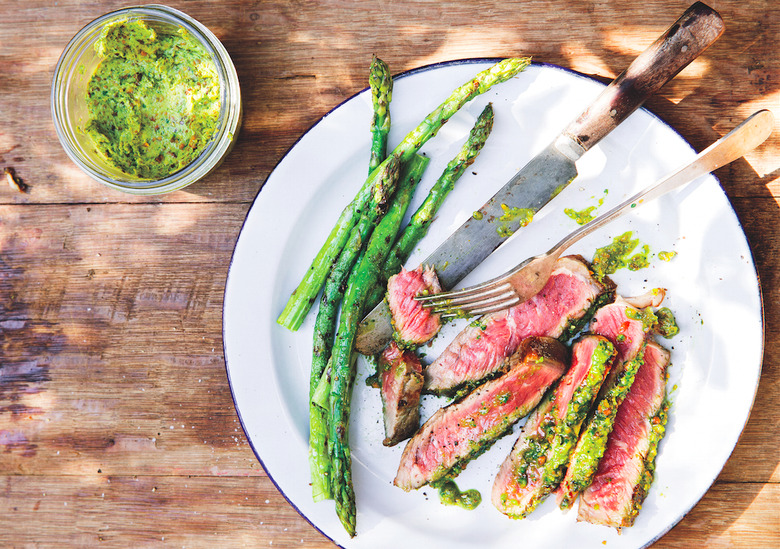 Ingredients
1/4 cup unsalted pistachios
1 cup arugula
1/4 cup butter
2 boneless rib-eye steaks (each about 12 ounces)
1 pound asparagus
2 tablespoons olive oil
1 1/2 teaspoons each Kosher salt and pepper
Directions
Whirl pistachios and arugula in a food processor until minced.
Add butter and whirl until smooth, scraping down inside of bowl as needed.
Transfer to a small container and chill. (This can be made ahead up to one week in advance.)
Heat a charcoal or wood-fired grill to high (450°F to 550°F; you can hold your hand 5 inches above cooking grate for only 2 to 4 seconds).
Coat steaks and asparagus with oil and season with salt and pepper.
Grill steaks, turning once, until done the way you like, 6 to 15 minutes for medium-rare.
Grill asparagus in last few minutes, turning once, until tender-crisp.
Transfer everything to a cutting board, dollop steaks with butter, and tent with foil.
Let rest 5 minutes.
Slice steaks and serve with asparagus.
Beer And Brown Sugar Ribeye Steak Recipe
Steak Time! Ribeye With Goat Cheese And Meyer Lemon Honey Mustard Recipe
Rosemary Rubbed Rib-Eye Steak Recipe