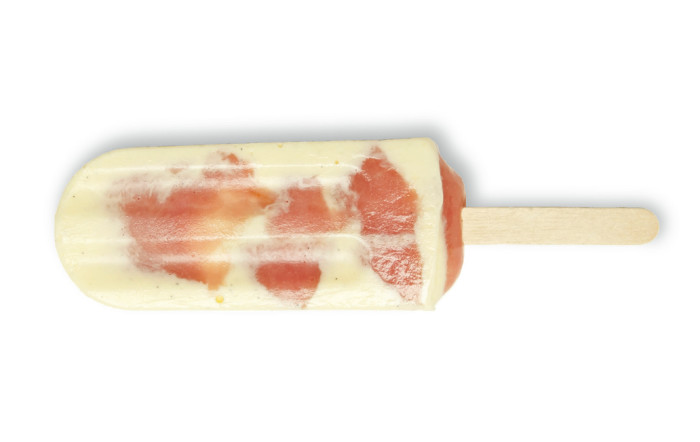 We have a contender for most useful cookbook of the summer! Ice Pops! (Exclamation point included.) This collection of 50 inventive frozen treats on a stick will keep you cool all summer long. Remember: Small-batch is always better.
This very tangy creamy English classic is satisfaction immortalized in ice.
Ingredients
Rhubarb
1 1/4

cups

water

1/2

cup

granulated sugar

14

ounces

rhubarb, trimmed and roughly chopped
Custard
1 3/4

cups

whole milk

Scant 1

cup

heavy cream

4

egg yolks

2/3

cup

granulated sugar

2

teaspoons

vanilla extract

A

pinch of salt
Directions
For the rhubarb:
Put the water and sugar in a medium saucepan and bring to a simmer.
Simmer until the sugar has dissolved.
Add the rhubarb and simmer for an additional 10 minutes, or until the rhubarb has broken down. Remove the pan from the heat.
For the Custard:
Pour the milk and cream in a saucepan over low heat.
Beat the egg yolks and sugar together in a heatproof bowl. When the milk starts to simmer, take it off the heat and spoon a few ladles of it into the egg mixture. Whisk it well, then pour it back into the pan.
Heat up the mixture again over low-medium heat, stirring constantly, until it has thickened enough to easily coat the back of a wooden spoon. Do not let it boil.
Pour it immediately into a bowl, stir in the vanilla and salt, and let it cool down before refrigerating it for a couple of hours or overnight to thicken.
Spoon alternate layers of rhubarb and custard into your ice-pop molds, leaving 1/4 inch at the top to let the mixture expand when it freezes.
Insert the ice-pop sticks and freeze.
More frozen treats on Food Republic: