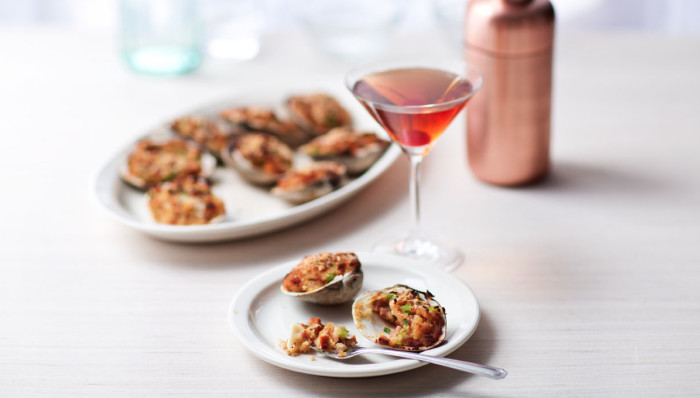 It's time to learn how to make stuffies, a Rhode Island staple. Join Mario Batali on a road trip across America as he explores the humble cornerstones that have shaped our collective palate. The dishes in Big American Cookbook are simple staples collected from passionate home cooks and entirely accessible for culinary enthusiasts of all levels. This recipe for how to make stuffies is perfect for anyone who's ever lived in New England, loved a clam or itched to plate a bivalve in its own shell.
Reprinted with permission from Mario Batali's Big American Cookbook
Ingredients
8

quahog or other large clams, rinsed and scrubbed

3

tablespoons

unsalted butter

1

onion, finely chopped

1/2

green bell pepper, finely chopped

2

cloves

garlic, thinly sliced

8

ounces

chorizo, or other dry, spicy sausage, finely diced

1 1/2

cups

fresh breadcrumbs, toasted

2

tablespoons

grated Parmigiano-Reggiano

Lemon wedges and hot pepper sauce, for serving
Directions
For the stuffies
Preheat the oven to 350°F. In a large, heavy pot or Dutch oven, bring 2 cups water to a boil. Drop the clams in the pot, cover, and steam for about 8 minutes, removing the clams as they open. Discard any that don't open after 10 minutes. When they're cooked, remove the meat from the shells and chop it finely. Set the meat and shells aside. Strain the cooking liquid through cheesecloth and set it aside.

Clean the clam shells and arrange them open side up on a baking sheet. In a large skillet, melt the butter over medium-high heat and sauté the onion, pepper, and celery until the onion has softened, about 5 minutes. Add the garlic and sausage and cook for about 3 minutes. Stir in the clams and the breadcrumbs. Add up to ¾ cup of the reserved cooking liquid, ¼ cup at a time, until the stuffing is moistened.

Spoon the stuffing into the shells, mounding it generously. Sprinkle the cheese over the stuffing. Bake for 15 to 20 minutes, until the stuffing starts to brown. Serve with lemon wedges and hot sauce.