Revealed: Dinosaur Bar-B-Que Top-Secret Pulled Pork Recipe And Smoking Process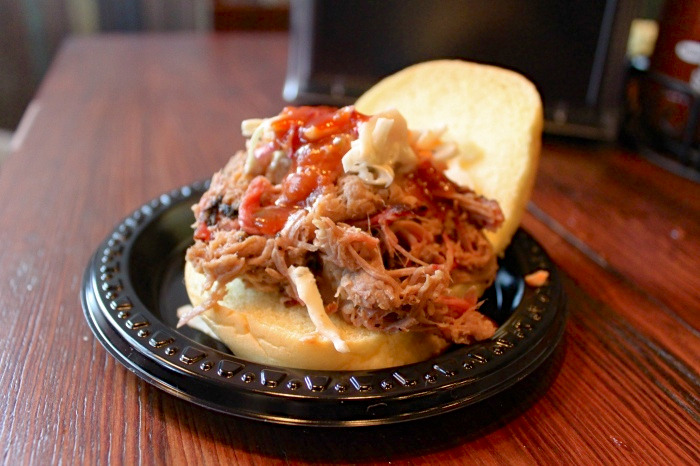 We're excited to welcome Dinosaur Bar-B-Que to Brooklyn! We hit the opening last week (hard) and by a stroke of luck obtained chef/owner John Stage's recipe for Dino's legendary barbecue pulled pork. We would know, we had about nine of these sliders. This is the pulled pork recipe you've been waiting for.
Pulled pork is one of the wonders of true blue barbecue. It starts with a pork butt, also called a Boston butt, which is the meat surrounding the shoulder blade of the pig. This is a tough, fatty piece that's magically transformed with spices, smoke and slow cookin' into something lean and melt-in-your-mouth tender.
Revealed: Dinosaur Bar-B-Que Top-Secret Pulled Pork Recipe And Smoking Process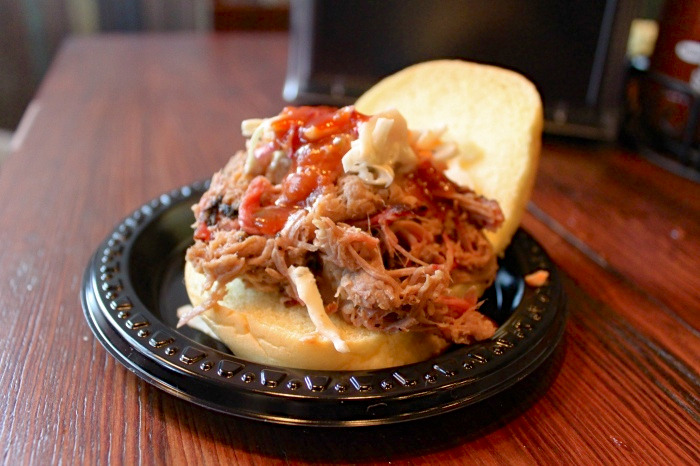 Ingredients
1/4 cup smoked paprika
1/4 cup kosher salt
1/4 cup sugar in the raw
2 tablespoons dark chili powder
1 tablespoon granulated garlic
1 tablespoon granulated onion
1 1/2 tablespoons black pepper
1 teaspoon ground cumin
1 teaspoon celery salt
1/4 teaspoon Cayenne powder
2 tablespoons vegetable oil
6 to 8 tablespoons Red Rub
1 pork butt shoulder
2 cups barbecue sauce
Directions
Mix all ingredients together in a bowl. You will have leftover rub.
Dump 9 cups of hickory wood chips in a bowl, cover with water, and let them soak for half an hour or so. Drain and divide them between 6 squares of aluminum foil. Wrap up into individual packets, poking holes in the top. Set aside
Pull off the grill rack and fire up the grill. While that's going on, mix together the oil and the rub. Rub this all over the pork butt. Once the coals are good and hot, pile them up on one side of the bottom of the grill and set 2 of the wood chip packets right on the coals. Position a drip pan filled with ½ inch of water on the side opposite the coals. Put the grill rack back in place. 
Set the pork butt, fat side up, over the drip pan, and close the lid. After about half an hour, check the grill temperature. It should settle down to 225° to 250°. If it's hotter, close down the vent holes. If it's cooler, open them up a bit. 
Check the temperature of the grill every hour for the next 7 to 8 hours and make adjustments. If the temperature dips down to 200° or less, add a couple of hot new briquettes to the pile of gray coals, close the lid, and open the vent holes a bit. 
Reach into the grill with some tongs after the pork butt's been smoking for 1 ½ hours, and remove the old packets of wood chips. Toss two new packets of foil-wrapped chips onto the coals. Repeat after another  1 ½ hours. 
After the pork butts been on the grill for 4 to 5 hours, you have achieved the necessary smoke penetration. It should be a rich mahogany brown, and the internal temperature should be about 155°. Grab the meat with tongs, remove it from the grill and wrap it tightly in foil. 
Put the foil-wrapped pork butt back over the drip pan and cover the grill. Now you're sealing in the succulence of the meat as you continue to cook. This will take another 3 to 3 ½ hours. So keep working to maintain an even temperature of 225° to 250°. The pork is done when you can push down on the foil and it doesn't spring back or when you can pull out the shoulder blade bone easily without very much resistance. 
Lift the foil- wrapped pork butt off the grill and let it rest (still covered in foil) for 10 to 15 minutes. 
Open the foil and strip off the fat cap on top of the meat, and then pull out the shoulder blade (if you haven't already). Carefully pull the meat apart, removing any visible fat and connective tissue. Shred the meat by squishing it between your fingers - the dark meat will shred easily, but you might have to pull apart the whiter meat into strings. Put the pulled pork into a baking pan and pour the Mutha Sauce over it. 
Use it right away, or cover it with foil and rewarm in a 200° oven. Now it's ready to pack into rolls for sandwiches. Be sure to serve some more Mutha Sauce at the table.
Barbecue Monkfish On The Bone
Barbecue Ribs with Cola Sauce
Grilled Bacon with Steak Sauce