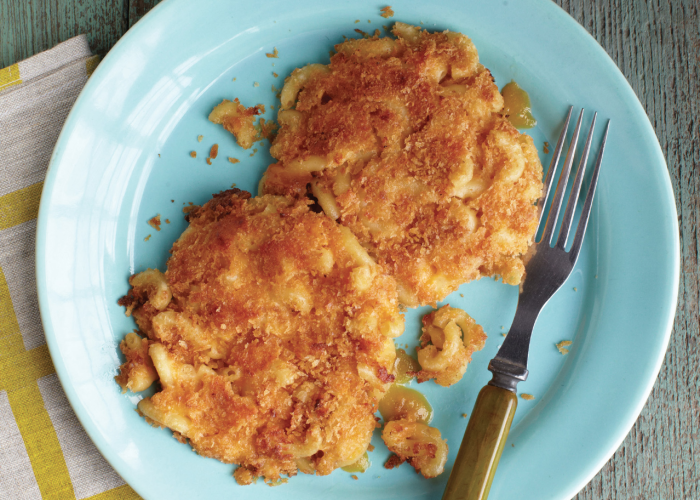 Sometimes we receive a book we all kind of fight to see who takes home. The Mac + Cheese Cookbook is one of those. If you've ever truly craved macaroni and cheese, chef/owners at Oakland, CA restaurant Homeroom have the cure: a dozen kinds with a jillion more add-ins.
A surprising number of people have asked us to add fried mac and cheese or mac and cheese pancakes to our menu. We always said no because both sounded more kitschy than tasty. However, when it came time to write this cookbook, we decided that it was at least worth experimenting with these kooky suggestions to see if they were good or gross. Fried mac and cheese was yummy, but it's hard to get much cheesy flavor into fried mac balls — they need a lot of other stuff to bind them so they don't fall apart in the deep-fryer. However, mac and cheese pancakes (or Mac-Cakes, as we call them) were actually delicious!
The key is the contrast between lots of crispy exterior and gooey interior. Both sides of the Mac-Cake are coated in panko and then griddled with extra butter. Crispy, buttery and cheesy, these are a decadent treat when you feel like regular mac and cheese just won't do. Another fun element of Mac-Cakes is that you can add your favorite toppings. Drizzle on ketchup for a classic combo, sriracha or other hot sauce for spice, or even another dipping sauce that you think would be complementary.
Ingredients
1

cup

dried small elbow pasta

1/2

cup

bechamel sauce

1

cup

grated cheese (Cheddar is classic, but any other favorite cheese will also work)

1

large egg

1

cup

panko bread crumbs

4

tablespoons

unsalted butter
Directions
Cook the pasta in salted boiling water until a little less than al dente. Drain, rinse with cold water and drain the pasta again.
Mix the sauce, cheese and egg together in a bowl. Add the cooked pasta and stir together until evenly mixed. Place the panko bread crumbs in a separate bowl.
Place about 2 tablespoons of the mac mixture in the bowl of panko. Gently roll it around in the panko to form a ball that is fully coated with bread crumbs. 
It is a little hard to work with, but don't worry, it doesn't need to be perfect — it's about to be flattened out into a pancake!
Heat a griddle or nonstick skillet over medium heat, and butter the pan generously. Place the ball of mac and cheese on the pan, and press it down with the back of the spatula until it flattens out into a thick pancake (not too thin, or it will break apart). Repeat with enough pancakes spaced at least 1 inch apart to fill the griddle or skillet.
Cook the pancakes on one side until brown and crispy, about 2 minutes, then flip and cook the other side until brown and crispy, another 2 minutes. Transfer the pancakes from the griddle to a serving plate. Repeat, adding more butter as needed, until all the pancakes have been cooked.
Eat the pancakes as soon as they are ready for maximum crispiness and cheesy gooeyness.
Try out these mac and cheese recipes on Food Republic: