Red Wine Sloppy Joe Sliders Recipe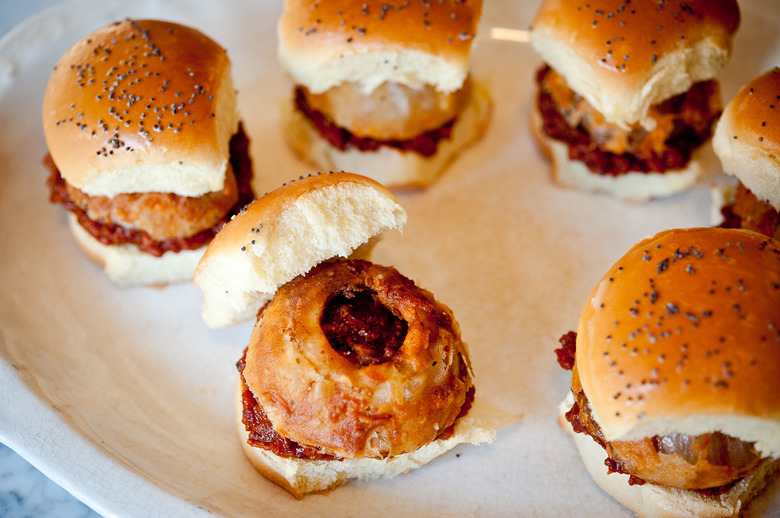 Photo: Gabi Porter
Molly Quirk is chef/owner of Sips & Bites in Williamsburg, Brooklyn. If you haven't had a thoughtfully handcrafted sandwich in a while, there's no better place to get your fix. She's generously donating a few of her tailgate food recipes to our cause: feeding you during football season.
The ingredient list for these sloppy joe sliders may look a little lengthy, but every seasoning you add to the mix infuses the meat with an huge flavor that fits surprisingly well in a mini-bun. Prepare to take down quite a few of these.
Here's a time-saving cheat to give your mini sloppy joes a little crunch and zip — buy an order or so of onion rings from the nearest place serving onion rings and quickly reheat in a hot oven for about 10 minutes before topping the sliders. No messy batter, no deep-fryer, oily paper towels or extra half hour of clean-up necessary. Not that we don't love all those things.
Red Wine Sloppy Joe Sliders Recipe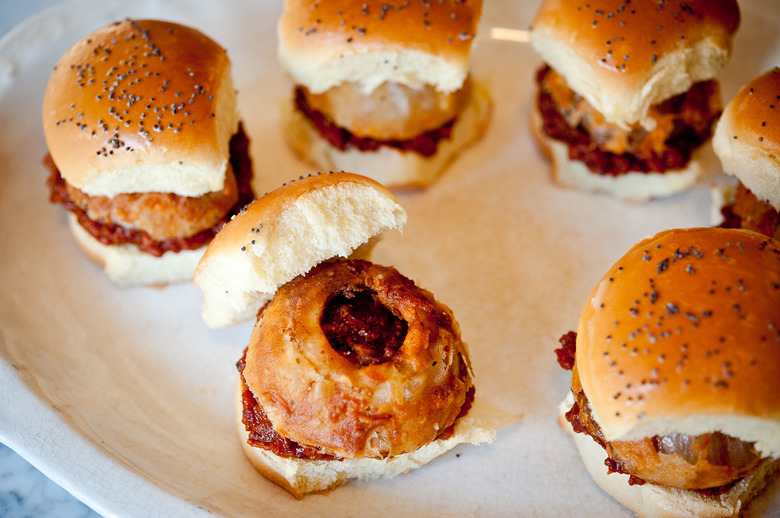 Ingredients
1/4 cup canola oil
1 red bell pepper
1 green bell pepper seeded and diced
1 jalapeño pepper seeded
1 large onion
2 pounds meatloaf mix
6 cloves garlic
1 cup red wine
1/4 cup red wine vinegar
1 teaspoon cayenne pepper
1 tablespoon smoked paprika
1 teaspoon ground cumin
1 teaspoon Colman's dry mustard
1 6-ounce can tomato paste
1 1/2 cups tomato sauce
3 tablespoons packed brown sugar
1/4 cup worcestershire sauce
kosher salt and freshly ground pepper
12 mini brioche or other slider buns
Directions
Saute vegetables in oil until softened.
Add meat and spices and stir until well combined.
Deglaze pan with wine, and reduce liquid by half.
Add remaining ingredients, reduce heat and and simmer for 20-30 minutes.
Serve on mini brioche buns topped with onion rings.
Sloppy Joe Sandwich Recipe
Sloppy Joes Make Us Smile
How To Make Vegan Sloppy Joes