Red Snapper Gefilte Fish Recipe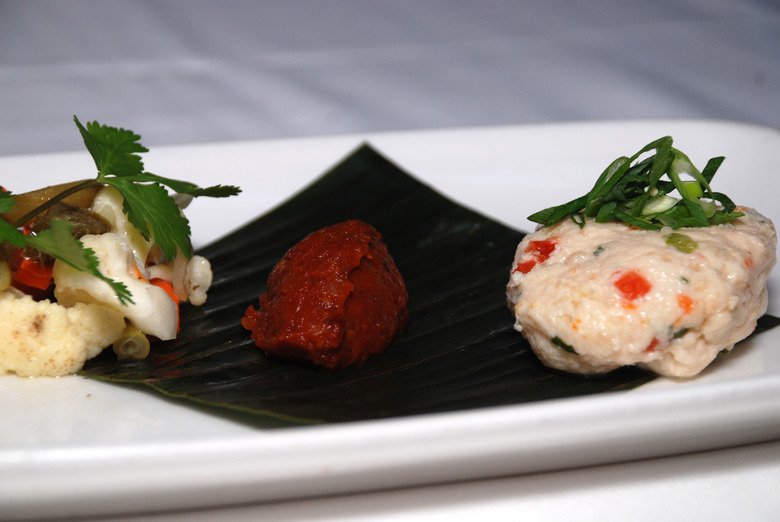 Update your gefilte fish with some red snapper.
Gefilte fish has it hard. Nobody eats it other than the obligatory slab before the good Passover stuff comes out. Nobody wants to eat an obligatory slab of anything suspended in a jar of cloudy gelatin. Be that as it may, gefilte fish on Passover isn't going anywhere. So Rosa Mexicano, NYC's spot for haute south-of-the-border, called upon cuisine culinary advisor Jonathan Waxman (Barbuto) to update it, Waxman uses red snapper in place of ...well, whatever goes into traditional gefilte fish. But we're never above a fresh, all-natural version of something usually packaged.
Swapping the piquant beet-dyed horseradish for homemade habanero sauce completes Waxman's interpretation of this homestyle Jewish classic. Rosa Mexicano has been doing Mexican Passover for 10 years, after all.
Red Snapper Gefilte Fish Recipe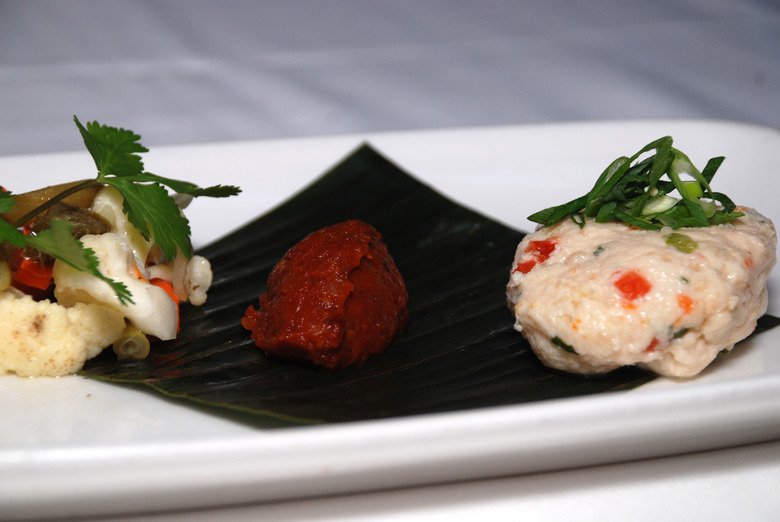 Ingredients
1 1/2 red snapper fillets
1/2 cup water
3/4 cup matzo meal
1 whole egg
2 egg yolks
1/2 cup butter
1/4 cup seedless jalapenos
1 teaspoon lemon zest
1 teaspoon kosher salt
3 quarts fish stock
3/4 pounds plum tomatoes
1/3 cup white onions
1 1/2 teaspoons garlic
1/2 habanero chile
3 teaspoons lime juice
2 tablespoons orange juice
1/4 teaspoon oregano
1 teaspoon kosher salt
Directions
Pulse the snapper in the robot coupe/food processor until it still has some texture. 
Put the snapper in a bowl over ice.  
Make a thick paste with the matzoh meal and water. Boil the water and add the matzoh meal. Mix thoroughly. 
Remove the paste from the heat and whisk in the whole eggs. 
Keep ice cold. 
Whip the butter in the robot coupe and remove. 
Add the paste, the egg yolk and the red snapper to the robot coupe. Pulse gently until it just comes together. 
Add the butter, chilies, lemon zest and salt. Pulse gently again until incorporated. 
Keep the mixture cold until you are ready to cook it. 
Bring the fish stock to a boil with some salt. It should be well seasoned and then turn down to a simmer. 
Shape the gefilte fish into 2-ounce portions. About 2 ½ inches long and 1 1/2 inches wide. 
Put the fish patties into the stock and cook for about 25 minutes.
Remove from the pot and cover with the stock. 
In a pan with very little oil, char the onion, garlic, tomato and habanero. 
Put into the blender with the lime juice, orange juice, oregano and season with salt.